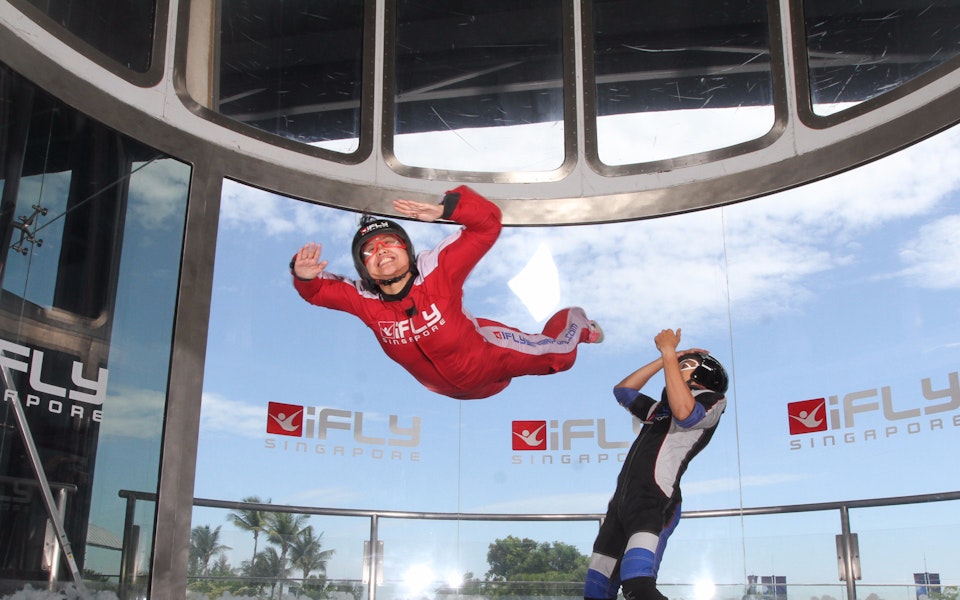 iFly Singapore | Indoor Skydiving in Singapore
iFly Singapore is a premium yet affordable destination to go indoor skydiving. It is great for fearless thrill-seekers who want a new perspective of the world. For those who would like a taste of the activity or are afraid of heights, indoor skydiving is perfect to introduce you to the extreme sport. iFly Singapore offers an indoor skydive experience that is far cheaper than outdoor skydiving and accessible to a lot more people, including those with physical disabilities.
Founded by Singaporean businessman Lawrence Koh, the facility is home to the largest wind tunnel --  which is 16.5 feet wide and 56.5 feet tall. This custom-made tunnel offers beginners and experts an experience unlike any other -- the ability to freefall without diving out of an airplane.
The Wind Tunnel at iFly Singapore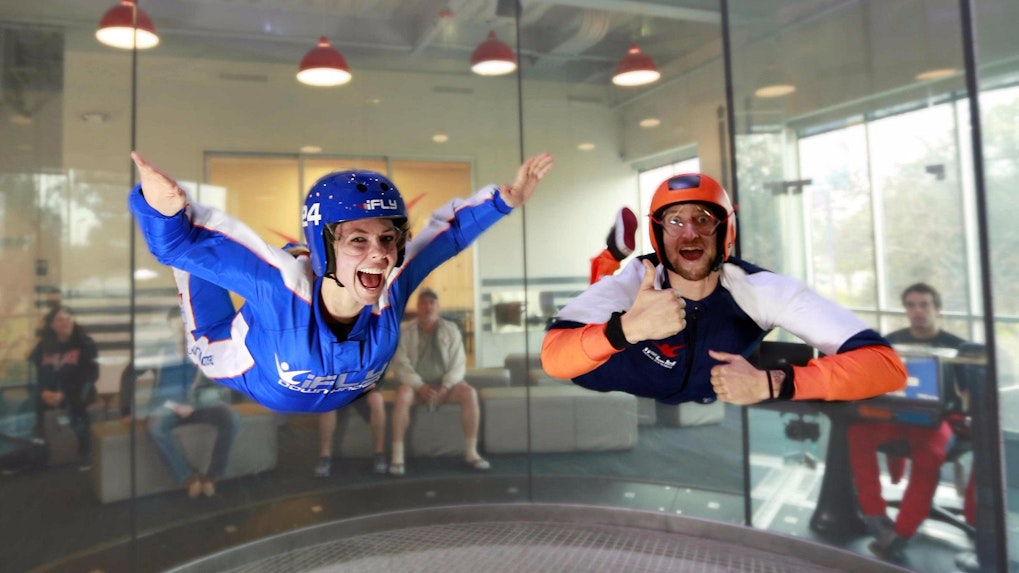 The patented one-of-a-kind wind tunnel at iFly Singapore is the essential part of your indoor skydive.  It is 16.5 ft wide and 56.5 ft tall and is the only one in the world to feature an 18 ft tall acrylic glass wall; this offers divers an unimpeded view of the South China Sea and Siloso Beach. 
This wind tunnel generates winds at high speeds vertically through the inlet contractor, enabling flyers to experience a state of free fall. The air is moved from the tunnel to the air diffuser and then into a system that keeps it flowing at high speeds. The wind speed varies for different flying experiences. The wind tunnel at iFly Singapore is also air-conditioned for customer comfort.
What to Expect While Indoor Skydiving at iFly Singapore
Once the forms have been filled and health checkups completed, visitors are led to a comfortable room and shown a detailed video about what to expect before/during the skydive: this includes the functionality of a wind tunnel, the right movements to adapt during an indoor skydiving experience, signals used to communicate during the flight and other safety measures. The instructors also meet visitors during this time to exchange greetings and provide further guidelines/assurances. After this, visitors are given their complimentary flight suits, helmets, goggles and earbuds to gear up. 
Once all the flyers have put on their jumpsuit and gear, they move to the flight room which features a bench where groups can sit. Instructors then lead the flyers individually into the wind tunnel.
As compared to jumping into the deep end during outdoor skydiving, at iFly Singapore, you gently lean into the sport. Enjoy the exhilarating experience of flying in an enclosed, protected environment. Each skydive lasts 45 seconds, which is said to be the time it takes to fall from 12,000 ft to 3,000 ft while outdoor skydiving. 
Keep a memory of the exciting experience with you forever by buying the high-quality pictures and videos of the flight at the Level 1 Flight Terminal/ Lobby.
Plan Your Visit
Timings & Location
Age/Health Requirements
What to Wear
iFly Singapore timings vary depending on the day you plan to visit. It is open every day of the week, throughout the year.
You can visit the indoor skydiving facility from 09:00 AM - 09:30 PM between Thursday to Tuesday; 11:00 AM - 09:30 PM on Wednesday
iFly Singapore is located at: #01 Sentosa Island, 43 Siloso Beach Walk, 01, Singapore 099010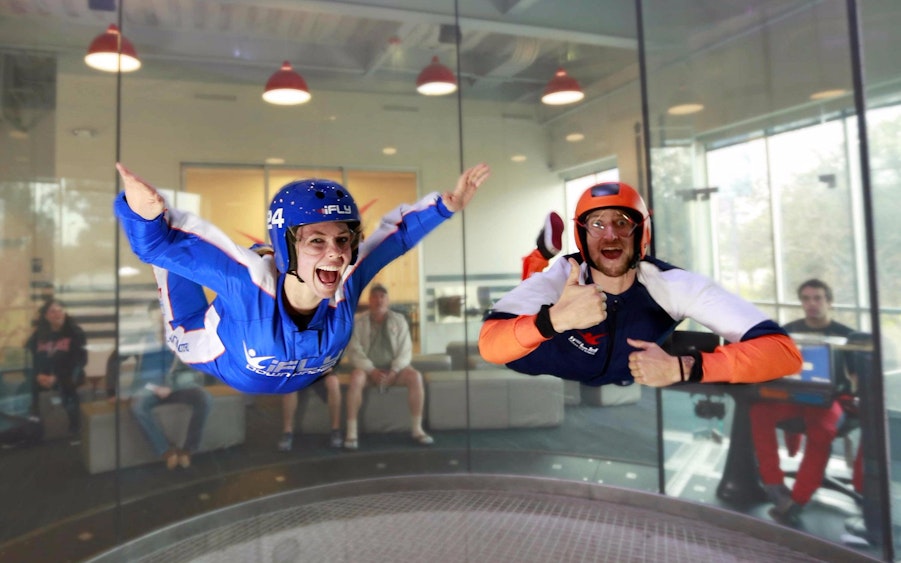 1. There's no age restriction as such to try indoor skydiving: anyone between the ages of 7-106 can try this activity. Only those under 18 need to carry a signed consent form from a parent or guardian
2. Weight restrictions depend on the participant's height: those under 5'9" must weigh less than 120 kg, while those taller must weigh less than 140 kg.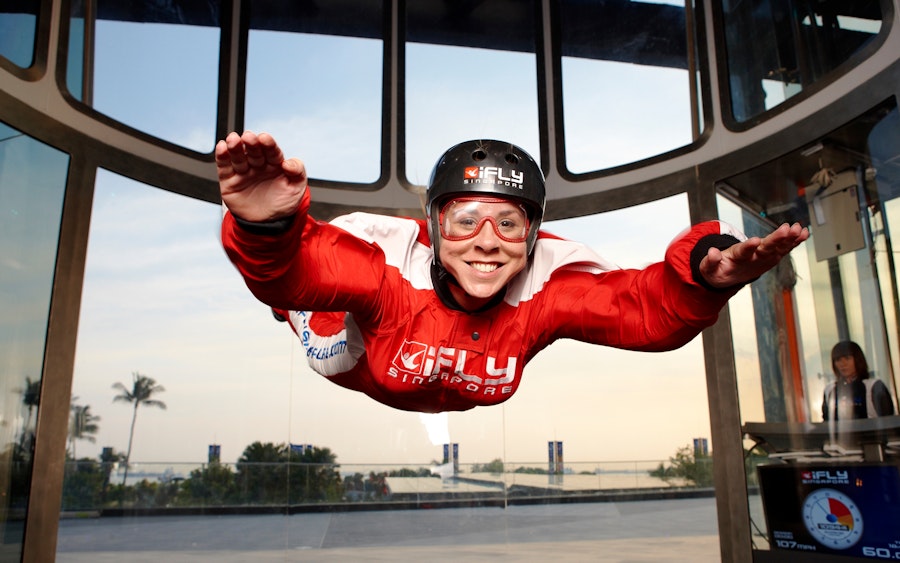 You can wear anything athletic and comfortable for your indoor skydive. It is recommended that you dress in t-shirts and pants/shorts/track pants with lace-up sneakers. Unlike the outdoor activity, you don't have to worry about any dietary restrictions before your indoor skydive.