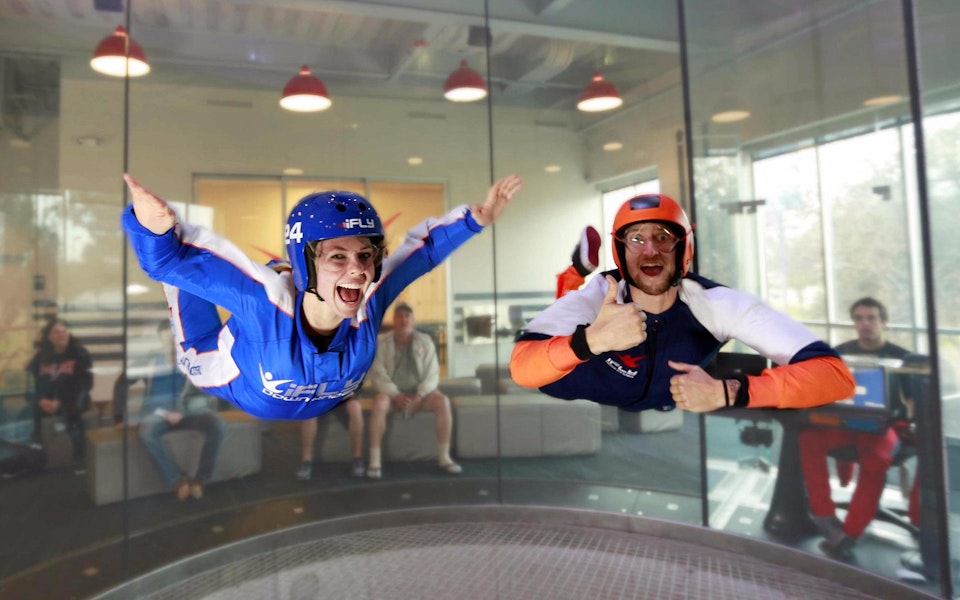 iFly Singapore | Indoor Skydiving in Singapore
At iFly Singapore, experience the thrill of skydiving -- without having to jump out of an airplane!
Indoor skydiving at iFly Singapore allows you to do just that; simply free-fall in a patented vertical wind tunnel. iFly Singapore is home to the world's first themed indoor skydiving facility. It has earned five Guinness World records since its inception in 2011. 
Visitors of all ages and expertise levels are guaranteed a splendid adventure at the facility; you don't have to be an expert! Even first-timers and beginners can go indoor skydiving at iFly Singapore. 
Our guide brings to you everything you need to know about indoor skydiving at iFly Singapore.
General Information iFly Singapore
The iFly Singapore facility is perfect for those who wish to experience the thrill of skydiving without having to take the plunge from 15,000 ft in the sky. The experience is unlike outdoor skydiving; the kind of training session and equipment required is completely different. You don't freefall into the sky, but rather into a large tunnel that propels wind upwards to give you the feeling of floating in air.   
iFly Singapore, located in the Sentosa islands, offers beginners one or two skydives (depending on the package) of 45 seconds each. This is the same time it takes to fall from 12,000 feet to 3,000 feet while outdoor skydiving. The vertical wind tunnel at iFly Singapore is about 18 ft tall -- almost five storeys high -- to offer flyers the experience of true free-fall conditions. The glass walls in the tunnel provide clear views of the South China Sea.
iFly Singapore has seven qualified instructors who are certified by the International Body Flight Association. They attend coaching camps throughout the year to constantly improve their standards and are equipped to train and assist you from the start to the end. 
The facility is open daily from 09:00 AM to 09:30 PM. On Wednesday, it is open from 11:00 AM to 09:30 PM.
Safety Rules and Guidelines at iFly Singapore
Age/Weight Guidelines
What to Wear?
General Guidelines
Any individual between 7-106 years of age can try indoor skydiving at iFly Singapore. All those under the age of 18, must however, carry a consent form from a parent or legal guardian
Flyers less than 180 cm (5'9") must weigh 120 kg or below, while those taller than 180 cm should weigh 140 kg or less
You can wear comfortable, casual clothing such as jeans, shorts and t-shirts. Avoid wearing accessories, slippers or too-loose clothing that can get caught in your jumpsuit or fall down the wind tunnels. Laced, close-toed and well-fitting sneakers or trainers are recommended. These are available to rent at iFly Singapore as well.
Customer safety is a primary focus at iFly Singapore As such, the gear we provide is top-class and available in different sizes. All flyers are provided with a fitted flight suit, helmet, earbuds, and goggles.
Ensure to arrive at the location 15-30 minutes before your scheduled time.
You don't have to worry about any dietary restrictions since the sensation of the freefall and its effect on your body is not the same while indoor skydiving, as compared to outdoor skydiving
Persons with physical disabilities can try indoor skydiving at iFly Singapore as well. You can inform the institute in advance so that they can make the necessary arrangements in advance.