Skydiving at the Grand Canyon: Know Before You Go
There aren't a lot of landscapes in the world as spectacular as the Grand Canyon. The brown-orange rugged terrain, vast stretches of lush greenery and more! And what better to experience this than by skydiving over the Grand Canyon? 
We take you through everything you need to know about the experience of skydiving at the Grand Canyon. From what to expect and timings, to safety rules and more.
Skydiving at the Grand Canyon: General Information
There's something special about skydiving at the Grand Canyon -- the stunning rocky mountains, deep gorges and its unique wild and rustic vibe. Prepare for a sensory overload as you process the breathtaking beauty of the Grand Canyon from 15,000 ft up in the air! 
Try to reach your skydiving facility at least 15 minutes before your scheduled slot. This will give you ample time to complete the necessary paperwork and a standard health check-up. Next, you'll be taken for your training session. Here, you'll be trained on everything you need to know about skydiving. You will learn all the basics about skydiving: how the entire skydiving process works, basic terms to be familiar with, the right movements and body positions to adapt, how to control the jump and deployment of the parachute, right way to land and much more. The session will be thorough and comprehensive and towards the end, you can clear all your queries. 
After your training session, it's finally time for your skydive. You will be strapped into the harness and given all the necessary gear: jumpsuit, goggles etc. Then, you'll be led towards a small airplane that will fly upto a height of 15,000 ft. Once the airplane is stationary, you'll prepare to jump.
Once the instructor on board gives you the signal, jump! At a speed of 135 miles per hour, experience the rollercoaster of a lifetime. The first few seconds of your 60-second freefall will seem like a blur and the next few seconds is when you'll groove into 3rd gear. After reaching the designated altitude, deploy the parachute; here's where it will feel like you're slowly gliding on a cushion of air. Use the next 5-6 minutes to take in the spectacular panoramic view of the Grand Canyon. You'll then safely land back on Earth and take home memories of a lifetime.
Best Time to go Skydiving at Grand Canyon
The Grand Canyon experiences winter between November to February at an average temperature of 20-43 degrees Fahrenheit (-6 to 6 degrees Celsius); summer falls between June to August at an average temperature of 80-100 degrees Fahrenheit (26 to 37 degrees Celsius). Spring and fall come between March to May and September to November. 
While you can go skydiving at any time of the year at the Grand Canyon, the best time would probably be during spring and fall; the pleasant weather and less crowds will make your skydiving experience more enjoyable. 
Skydive Grand Canyon: Safety Rules and Regulations
Here are a few guidelines and regulations to follow before skydiving at the Grand Canyon.
Health Requirements
What to Wear
What to Eat
The weight limit to skydive at the Grand Canyon is 210 pounds (95 kg). Those who weigh higher must go through a fitness assessment; moreover, a surcharge of $35 applies for those above 210 pounds and a $50 surcharge for those above 230 pounds (104 kg).
It is recommended that you wear layered clothing since it can get a little chilly when you jump from the airplane. Wear a shirt or a t-shirt with a thin jacket or sweatshirt on top. Only flat, closed-toe shoes are allowed for skydiving at the Grand Canyon. If required, you can also ask for goggles. Avoid loose accessories or jewelry for your skydive.
Eating healthy meals is essential. Have a salad or a protein smoothie before the jump and you should be good to go. If you've consumed alcohol or drugs at least eight hours before your skydive, you won't be allowed to participate.
More Reads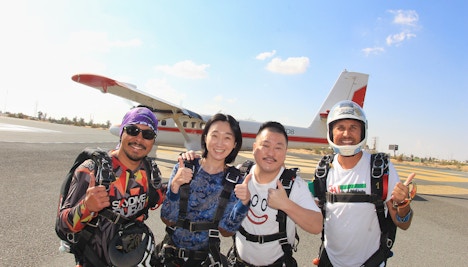 Skydive Grand Canyon FAQs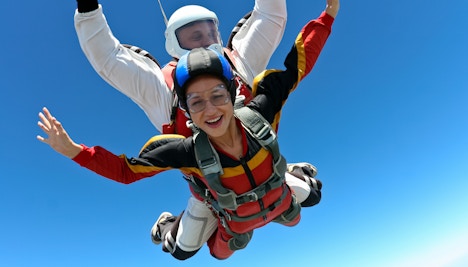 First-time Skydiving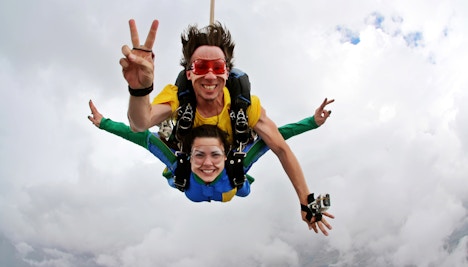 Tandem Skydiving