Skydive Noosa | Discover Dropzone Location, Ways to Get There & More
About Skydive Noosa Dropzone
Are you looking for some adventure options at Gold Coast, Australia? Take a dive as you gaze at this golden-hued coastline as you go skydiving at Noosa! Small villages and towns run along the coastline and the other side of the city is enveloped by lush green forests, making for absolutely spectacular views from up above.
Why You Should Skydive at Noosa
Beautiful landscapes: See the beautiful sunshine coast from above all the way from Noosa to Fraser Island.
Thrilling Free-Fall: Get your heart racing with a 60-second free-fall where you can reach speeds up to 200 kmph!
Trained Professionals: Experienced, welcoming, and competent skydiving guides will accompany you on your tandem jump.
Skydive Byron Bay Dropzone Location
Address: Sunshine Coast Airport, 4 Kittyhawk Cl, Marcoola QLD 4564, Australia. Find on Maps
The Noosa dropzone is conveniently situated at Mudjimba Beach, just next to the Sunshine Coast Airport. It is less than an hour and a half from the centre of Gold Coast as well as less than two hours from Brisbane.
How to Get to Skydive Noosa Dropzone?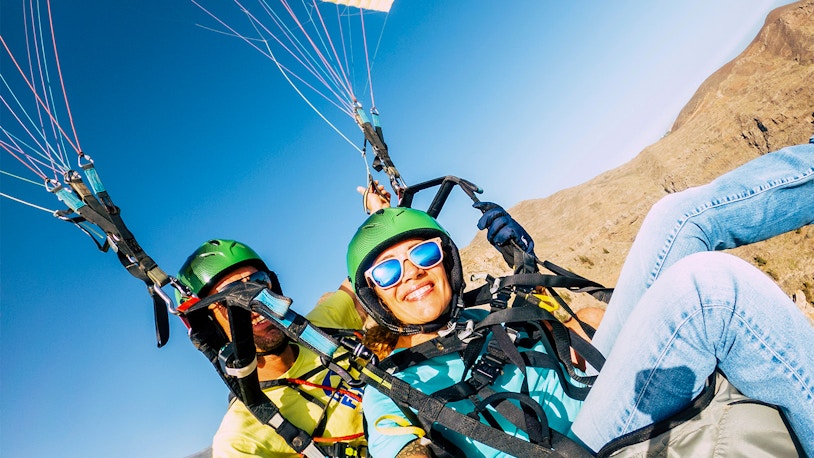 By Bus: Greyhound Australia and Premier Motor Services, both provide buses from Brisbane to Noosa. The trip typically takes 2.5 hours.
By Train: Get out at platform 6 of Central Station in Brisbane and ride the TransLink QLD to platform 1 of Nambour Station. From here you can catch a shuttle or a taxi. 
By Car: With a car, take the M1 North to the Sunshine Motorway. Take a right here to stay on Route 70. Exit at Maroochydore Noosa Road and go to the fourth available exit at the subsequent roundabout.
What to Expect at Skydive Noosa Dropzone?
Arrival
Training
Tandem fall
After arrival, you will be met by helpful staff members who will guide you through the necessary paperwork. Plan to come 15-30 minutes before your scheduled time slot to ensure you're able to complete all procedures and start your dive on time.
After a general health checkup, you will participate in a comprehensive safety briefing and training session led by qualified professionals. You will learn how to operate the gear, what safety measures to take, and what to expect during the leap. Use this time to clear your doubts and to get familiar with your jumpmaster.
To get to the jumping height, you will first take in a breathtaking aerial tour of the beautiful Gold Coast. At 15000 ft, you will jump out of the plane and freefall for about a minute, after which the instructor will open the chute. You can soak in the beautiful views for the next 5-7 minutes as you slowly glide towards the Earth. 
Know Before You Go Skydiving at Noosa
Timings
Age & Weight
What to Wear
What to Eat
Skydive Noosa is open every day from 8 AM to 8 PM. 
We recommend arriving at least 15-20 minutes before your scheduled time slot. While the jump lasts just 5-7 minutes, the entire skydiving experience, including your training, flight, and jump, lasts about 3-4 hours.
Age: 
The required minimum age is 16. All participants under the age of 18 must have a parent or guardian present. While there is no strict maximum age restriction, it is expected that you are reasonably healthy to make the jump. 
Weight: 
The jumpmaster will consider anyone up to 110 kg in weight. Participants who weigh more than 95 kilograms (105 pounds) will be charged an additional fee.
Put on something comfortable and loose along with closed shoes like sneakers or running shoes. Avoid wearing items that are bound to get lost like accessories, sunglasses, jewellery, etc.
It's best not to eat anything too heavy or greasy before your jump. Try having something light like a smoothie or some cereal. No drugs or alcohol may be used within 8 hours before the jump, and scuba diving must be avoided 24 hours prior.
Frequently Asked Questions About Skydive Noosa Dropzone
What is the Skydive Noosa dropzone?
Beaches and popular surfing areas make Noosa a hot tourist destination. With spectacular views of Noosa Beach, Sunshine Beach, and Lake Weyba, Skydive Noosa makes for a popular skydiving destination as well!
What is the difference between Noosa and Byron Bay dropzones in Gold Coast?
There is a wider diversity of landscapes to enjoy at Byron Bay. The beautiful shoreline is complemented by lush woods, rolling hills, and sugar cane fields. However, at Noosa, you can take in breathtaking vistas of Noosa Beach and the Sunshine Coast and the small towns along the coast. 
What is the minimum age for skydiving at Noosa?
The minimum age for skydiving at Noosa is 16. A guardian will need to be present with you if you're under 18. 
What is the weight limit for skydiving at Noosa?
The maximum weight for skydiving at Noosa is 110 kg. Beyond 95 kg, you will have to pay an additional fee for the arrangement of necessary equipment. 
How long does the skydiving experience at Noosa last?
The entire skydiving experience at Noosa, including the briefing, health check, flight, and jump, lasts for about 3-4 hours. The jump itself, however, lasts for 5-7 minutes.