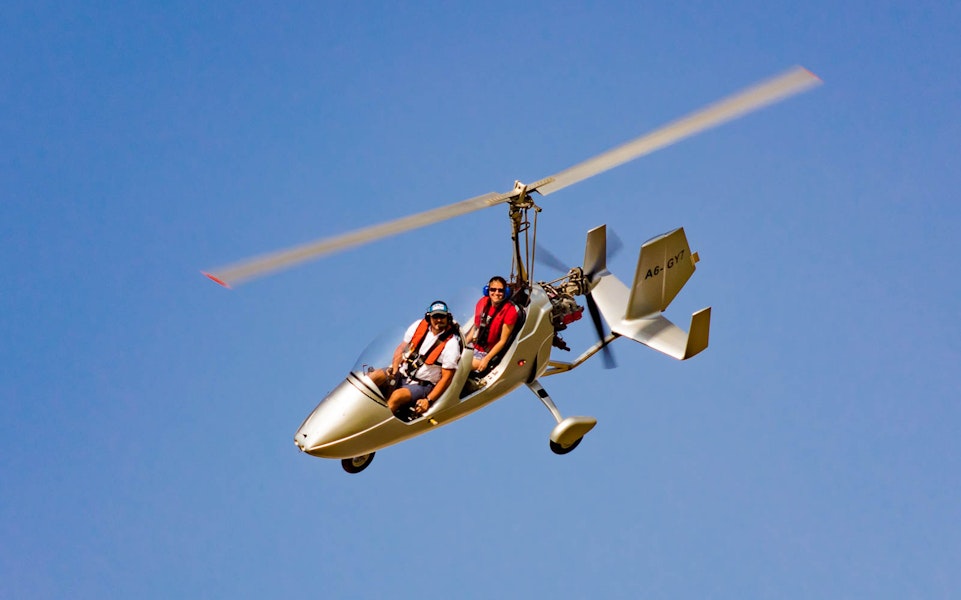 Gyrocopter Flights in Dubai
Experience Dubai - the city, the skyline and the coastline - like never before onboard a gyrocopter, a two-man aerial vehicle which is a mix between a plane and a helicopter.
The gyrocopter, a slow-flying aircraft, was invented by Spanish engineer Juan de la Cierva in 1923. It is also referred to as an autogyro or a gyroplane. Gyrocopters in Dubai are popular as locals and tourists opt to fly above the city and take in the stunning views in a private experience.
Due to their small size and slow fly speed, gyrocopters can fly at lower altitudes thereby offering a mesmerizing experience; this allows those onboard to marvel at the view in an up-close and personal manner.
What is a Gyrocopter?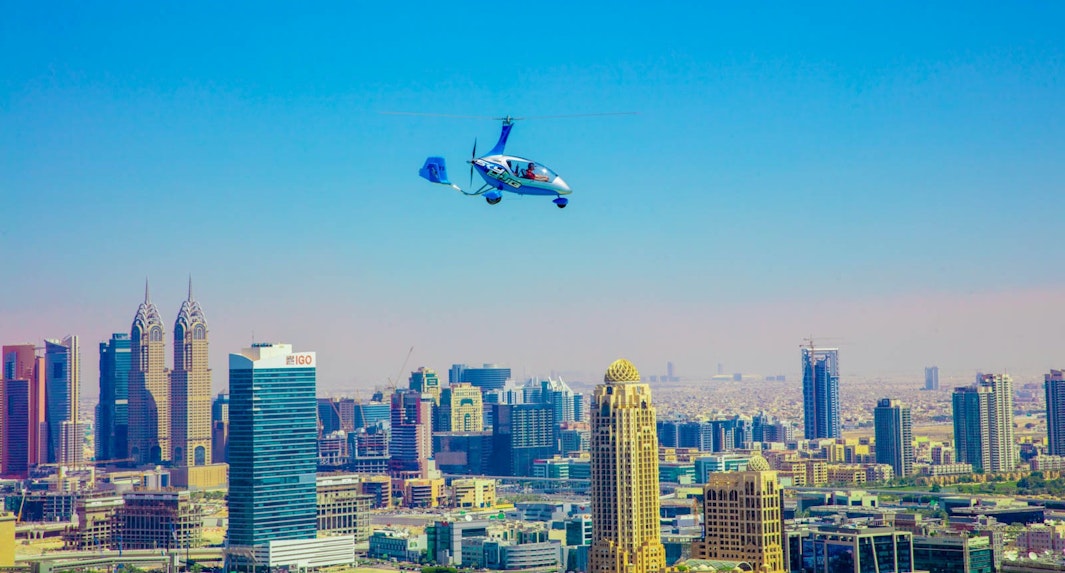 A gyrocopter, also known as a gyroplane or a rotoplane, may resemble a helicopter but works in a completely different way.
While a helicopter's engine is used to power its rotating blades, a gyrocopter's engine is used to power a back propeller to move the aircraft forward. In turn, this naturally pushes air through a gyrocopter's rotating blade, allowing it to spin faster and fly. It's a smaller, safer version of a helicopter. A gyrocopter can hold maximum two persons.
A wonderful experience to try out in Dubai is to take a gyrocopter flight. While you soar high above the ground, you would get a spectacular view of the city's landscape and popular landmarks like the Palm Jumeirah.
Dubai Gyrocopter Flight Experience
On the scheduled day of your flight, ensure to arrive at the Palm Drop Zone at least 30 mins in advance. 
After the standard paperwork has been signed and completed, visitors have a meet and greet with their trained expert pilots. Here's where you'll receive brief instructions before getting on the gyrocopter. Since a gyrocopter can accommodate only two persons, one pilot and one guest take the 20-minute flight. 
You'll soar at about 1,500 ft high up in the air from where you can see Dubai at its finest. Soak in the beautiful Arabian Gulf, along with iconic landmarks such as Palm Jumeirah Island, Burj Khalifa, Burj Al Arab and more. 
At the end of the flight route, pilots can offer a thrilling end to your experience by performing an autogyro manoeuvre before landing back at Skydive Dubai's Palmdrop zone location. 
What to Consider Before You Take a Gyrocopter Flight in Dubai
Timings
Age/Weight Limit
Dress Code
Boarding and Landing
Rules
Gyrocopter flights are available daily between 10:00 AM to 04:30 PM. Each flight lasts for 20 minutes.
Since the weather in Dubai is fairly predictable through the year, visitors rarely need to worry about their flight experience being hindered or cancelled. The city experiences summer from about April to October and fall/winter from November to March. You can hop on board a gyrocopter at one time of the year. Gyrocopters in Dubai are often a pleasant experience and a great break from the scorching heat of the streets of the city.
Anyone over the age of 17 can opt for a gyrocopter ride in Dubai
Due to the small size of a gyrocopter, there are certain weight restrictions in place. Passengers must weigh 105 kg or less to fly on a gyrocopter in Dubai.
Flyers are advised to wear athletic, comfortable clothes along with lace-up shoes like trainers or sneakers
The boarding and landing point for taking a gyrocopter flight in Dubai is at the Palm Drop Zone skydive location. This is located at Al Seyahi Street, Mina Seyahi, Dubai.
All participants must provide a valid government ID at the time of registration
Make sure to plan your gyrocopter flight bookings properly to avoid cancellations. SkyDive Dubai does not offer refunds.
Gyrocopter Flights in Dubai: Tips
The best time to ride a Gyrocopter in Dubai is in the months of October to May. This helps tourists avoid the blistering heat of summer in the city.
While SkyDive Dubai welcomes walk-ins, visitors that are in the city for a limited time are advised to book their tickets online in advance to ensure they get a ride on the gyrocopter.
Every ticket booked on SkyDive Dubai offers a 20-minute flight assisted by an expert, along with a high-quality video and pictures of your experience. 
Flyers are also allowed to carry their phones on the flight.
Unlike skydiving, there is no need for flyers to go through a detailed safety briefing as your gyrocopter is manned by an expert pilot.
Dubai Gyrocopter Flight Reviews
Book Your Skydive Dubai Tickets