Skydiving in Dubai: Know Before You Go
Planning to go skydiving in Dubai? Excited about the gorgeous views in store ahead and cool air rush against you during your freefall?
Excellent!
Our guide to skydiving in Dubai is all you need to prepare for the big day. Read about Skydive Dubai, the best weather to go skydiving, what to eat and drink before your skydive and more.
Skydive Dubai: General Information
Skydiving in Dubai should be at the top of your bucket list when you visit the city! Not just professionals, but first-timers can enjoy the ultimate experience here. Skydive Dubai offers tandem skydiving experiences for first-timers and beginners in the sport. While experienced skydivers can go solo -- provided they have their license and certification -- tandem skydiving in Dubai is the best option. It offers safety and comfort knowing that the professional skydiving instructor strapped to you controls the entire dive and landing.
Skydive Dubai offers two main locations: Palm Drop Zone and Desert Campus Drop Zone. At both locations, the entire experience should take between 3-4 hours, so prepare to spend a significant chunk of your day at the dropzones. They begin dives from as early as 09:00 AM, so you can plan your day accordingly.
Before each tandem skydive, beginners are given about 30 minutes of instructions and guidelines to follow. You will then be taken up in a small airplane, after which, with your tandem instructor, you'll jump out. The freefall lasts for about 60 seconds where you will fall at about 120 miles/hour, after which your tandem skydive instructor will deploy the parachute and you can blissfully glide back down to Earth. The landing should take between 5-7 minutes.
You can also hop aboard a wonderful flight in a gyrocopter and take in Dubai's stunning sun-kissed skyline.
Best time to skydive in Dubai
Dubai experiences sunlight and dry heat almost through the year, from April to October, while November to March sees winter, which also includes occasional rainfall. In case of rainfall, your dive could either be rescheduled or canceled. The best time to go skydiving in Dubai would ideally be October to April since the weather is pleasant with a cool breeze during the day.
Selecting a morning slot for your skydiving experience is perfect to get the best views of the city and capture memorable photographs.
Safety Rules and Regulations at Skydive Dubai
Health Requirements
What to Wear
Age
Women must weigh less than 90 kg and men less than 100 kg to skydive in Dubai. Women's BMI must measure less than 27.5 and men's, less than 30.
It is recommended that skydivers wear comfortable, athletic clothing like track pants, trousers and t-shirts. It is better to avoid loose clothing to prevent it from getting caught in the parachute. Wear sneakers and avoid sandals and slippers.
Any individual above the age of 18 can go skydiving in Dubai. Those between the ages of 12-18 will be permitted only when accompanied by a legal guardian or parent.
More Reads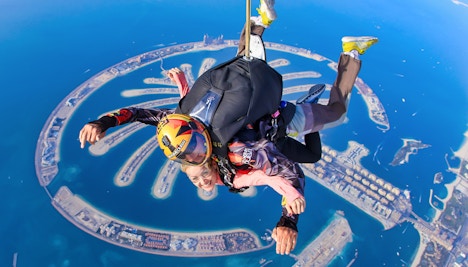 Palm Drop Zone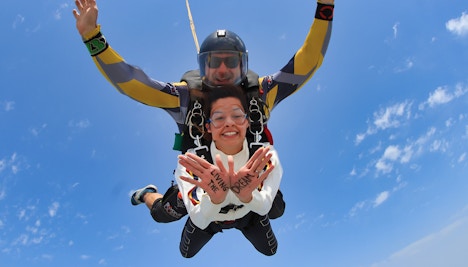 Desert Campus Zone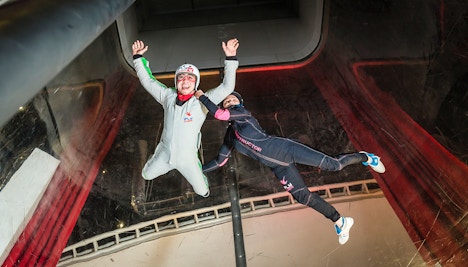 iFly Dubai
Book Your Skydive Dubai Tickets