Skydive Dubai Palm Drop Zone
Palm Drop Zone
Excitement soars high as you do! Go skydiving in Dubai the next time you visit this spectacular city and experience an adrenaline rush like never before. This adventure sport is designed not just for experienced professionals, but beginners as well. You can skydive in Dubai at two locations: the Palm Drop Zone and the Desert Campus Drop Zone.
If you're looking to jaw-dropping views of the blue-green ocean, Dubai's impressive skyline and of course, the architectural wonder that is the Palm Jumeirah, your next destination should be the Palm Drop Zone.
What is Palm Drop Zone in Dubai?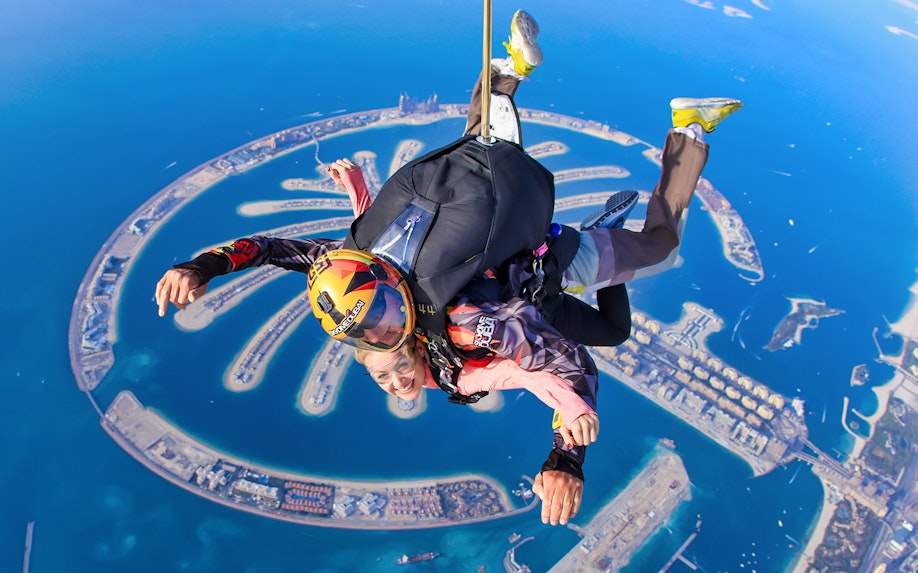 Skydive Dubai's Palm Drop Zone is the premier skydiving location in the city. A man-made island designed in the shape of a Palm tree, surrounded three sides by a calm ocean, the Palm Jumeirah is one of Dubai's top attractions. What better scene could you hope for while skydiving! The view from 10,000 ft in the sky is sure to blow your mind; prepare to be mesmerized by the blue-green ocean, a massive palm tree in the middle of the ocean and some of Dubai's most popular landmarks like Burj Al Arab!
Palm Drop Zone Skydiving Experience
Soar higher than the tallest towers amidst Dubai's skyline; skydive from 13,000 ft in the sky and take home a treasure trove of memories.
Ensure to reach the skydiving center at least 15 minutes before your assigned slot. You will be required to read and fill out some paperwork, after which you will be put through a standard health check-up.
The next step is a meet-and-greet with your tandem skydive instructor who, along with his/her team, will take you through a brief training session that shouldn't last more than 30 minutes. They walk you through the entire skydive process and brief you about the right body movements and positions to adapt before and during your jump.
You'll be strapped into the necessary skydiving gear before being led towards the aircraft for your tandem skydive. Next, you'll travel towards the sky on a short, 20-minute flight. Your instructor will then attach themselves to you by a harness and instruct you on the position to adapt before the jump.
Now comes the best part! Feel the cool wind rush against your body as you freefall over the Palm. Your freefall will last for approximately 60 seconds which will feel like a surreal rollercoaster ride, after which your tandem skydive instructor will deploy the parachute. Now is when you can actually stop and soak in the beautiful view; watch the sun shine over some of the tallest skyscrapers in Dubai and enjoy the serene ocean gently crash against the Palm Jumeirah. Your landing will take between 5-7 minutes; make the most of it!
Know Before You Go
Skydive Dubai's Palm Drop Zone is located at Al Seyahi Street, Mina Seyahi, Dubai.
It is open through the week and hours of operation vary depending on the time of year.
January to May: 10:00 AM to sunset
June: 09:00 AM to sunset
July to August: 05:00 AM to 12:00 PM; closed on Wednesdays
September: 09:00 AM to sunset
October to December: 10:00 AM to sunset
Skydive Dubai Palm Drop Zone Reviews
I visited Skydive Dubai (Palm DZ) on my 18th birthday- in short, as soon as it was legal! I had the most wonderful experience with tandem instructor Rodney and photographer Olga. I didn't get jittery or nervous, due in large part to the warm and friendly conversations both Rodney and Olga initiated with me on the flight and afterwards too. They're fantastic people and I'm truly grateful to them for enhancing my experience, which all in all was an exhilarating adventure with no hassles- just great fun!

Annada Rathore
This place is fabulous; The online booking process through to the actual skydive was a slick process...check-in, orientation, training and a departures screen ensured you felt in safe and professional hands. Special thanks to Carl P & Norman who made my experience absolutely the best! They really got to know you before the jump and were friendly yet professional and really calming as it does get a bit scary when you're 13,000ft above the Palm and you're minutes away from jumping out of a plane! This is a must do when in Dubai it was insane - and you were right about my video you got some great shots Norman!!

Lisa D Leeds
Book Your Skydive Dubai Tickets