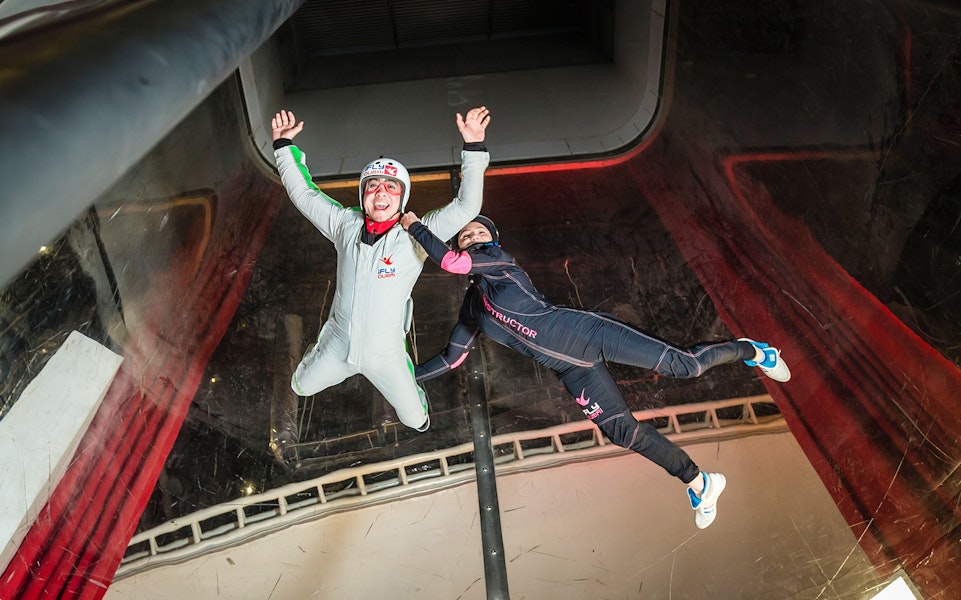 iFly Dubai - Indoor Skydiving in Dubai
iFly Dubai
Looking to try something different while in Dubai? How about a freefall, defying gravity?
Go indoor skydiving in Dubai and experience the thrill -- without actually jumping out of a plane.
An indoor skydiving experience at iFly Dubai allows you to do just that. Let large gusts of powerful wind in a carefully controlled environment hold you up while you fly safely and peacefully.
What is iFly Dubai?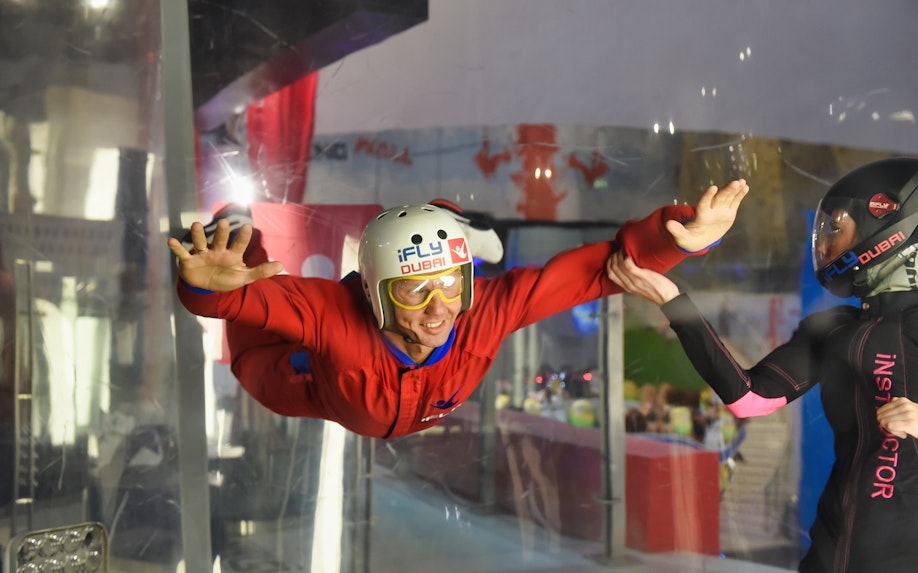 If you are nervous or hesitant to jump out of a plane, or would simply like to experience the sensation of a freefall, indoor skydiving is definitely the best option for you. At iFly Dubai, an indoor skydiving facility in UAE, you can do just that!
How indoor skydiving works is simple: iFly Dubai is designed with a first-of-its-kind double vertical wind tunnel that are enclosed by glass, about 10 m in height. Large fans blow air into these tunnels at 200 km/h, to effectively hold you up on a cushion of air. The fan speed is operated to accommodate your body weight.
At iFly Dubai, you can experience the sensation of being in freefall, in a safe, controlled environment with minimum risks.
Your iFly Dubai Indoor Skydiving Experience
On arrival at iFly Dubai's location, you'll be required to register and sign some standard paperwork. Next, you'll be ushered into a room for your training session with the indoor skydiving instructors and other participants. Here, you will be shown a short video and trained in body positions and movements and significant hand movements; after this all your questions will be answered by the instructors.
Next, you will be given all the necessary equipment: a wind-suit, protective eyeglasses, a helmet and if you require, earplugs. You'll then be taken to the wind tunnels where you can begin your experience. Your entire indoor skydiving session comprises two 1-minute flights.
It might take a few seconds to adjust to the feeling of being suspended in air. You will quickly settle into the experience, allowing you to enjoy the thrill. If you dare, try some cool twists and turns in air with the help of your instructor.
After the experience, you will be rewarded with a certificate recognizing your achievement.
Plan Your Visit
Timings & Location
What to Wear?
Age/Health Requirements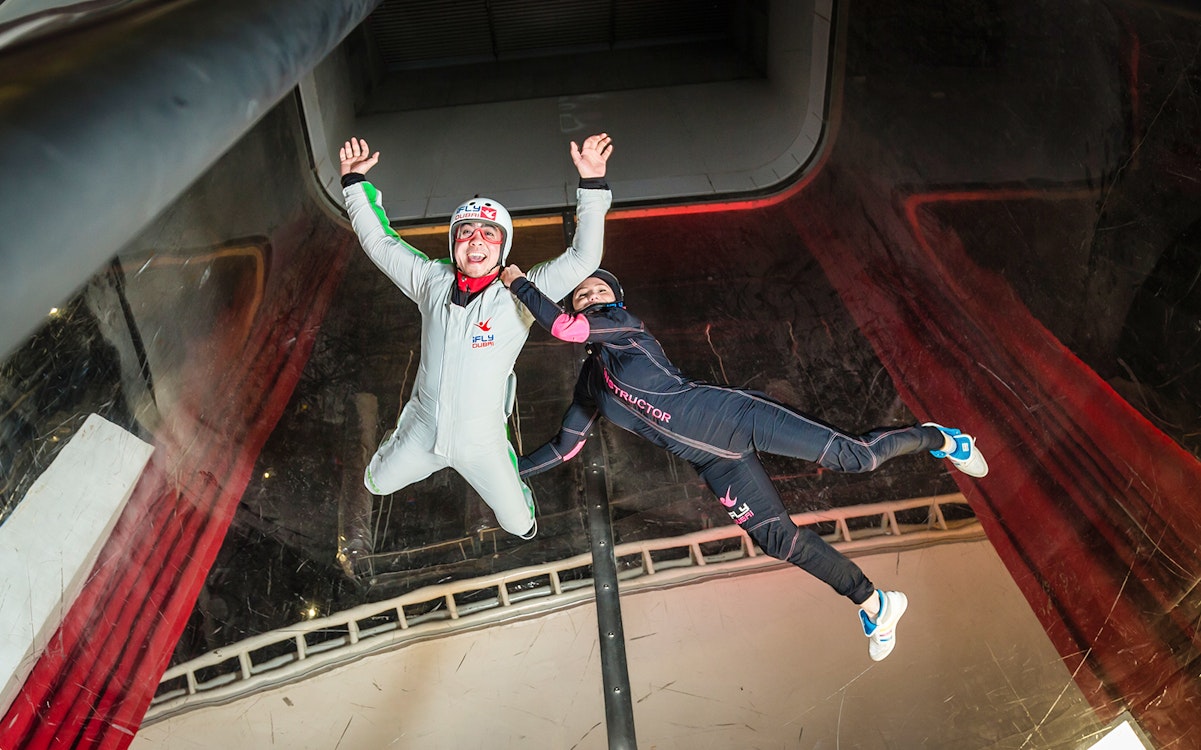 iFly Dubai timings vary depending on the day you plan to visit. It is open every day of the week, throughout the year.
You can visit the indoor skydiving facility from 10:00 AM - 10:00 PM between Sunday to Wednesday; 10:0 AM - 12:00 PM, between Thursday to Saturday.
iFly Dubai is located at: Third Floor, Play Nation Area, City Centre Mirdif، Ghoroob, Sheikh Mohammed Bin Zayed Road - United Arab Emirates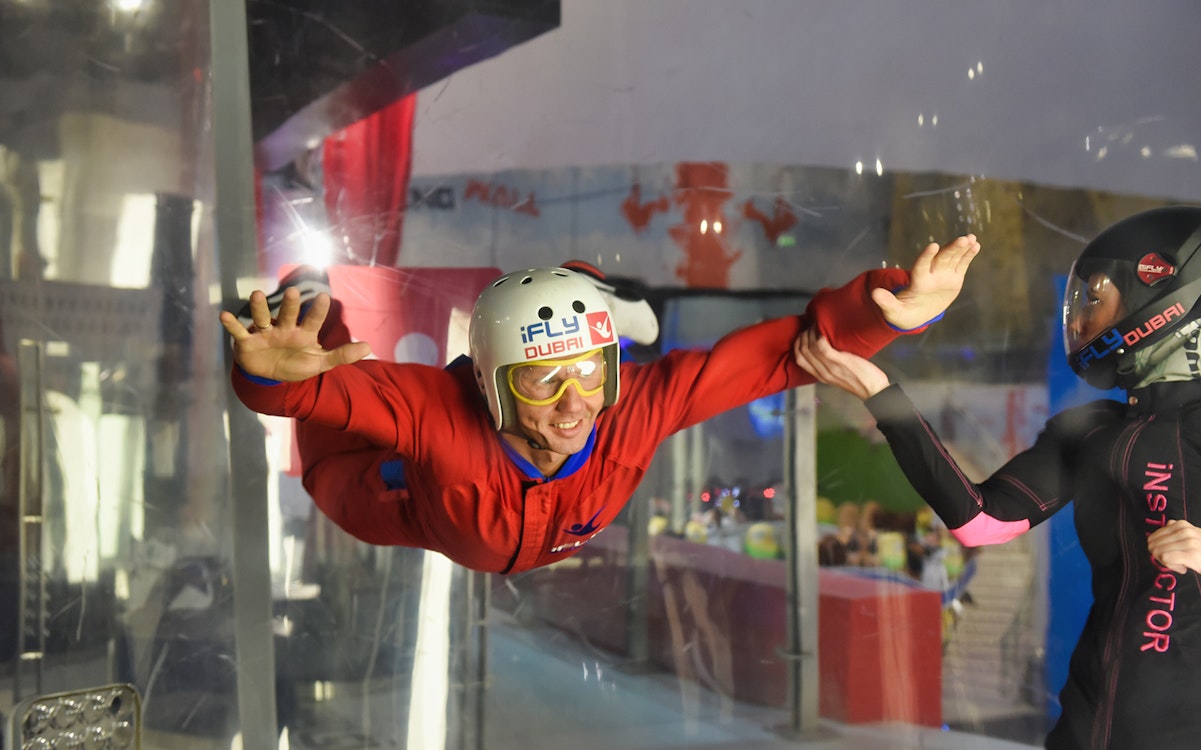 For indoor skydiving at iFly Dubai, you can wear loose, comfortable clothing like pants and a t-shirt with sneakers.
Please avoid wearing loose accessories and jewelry that can get caught in your gear or fall into the wind tunnels.

You will be give the necessary safety equipment and jumpsuit before your experience.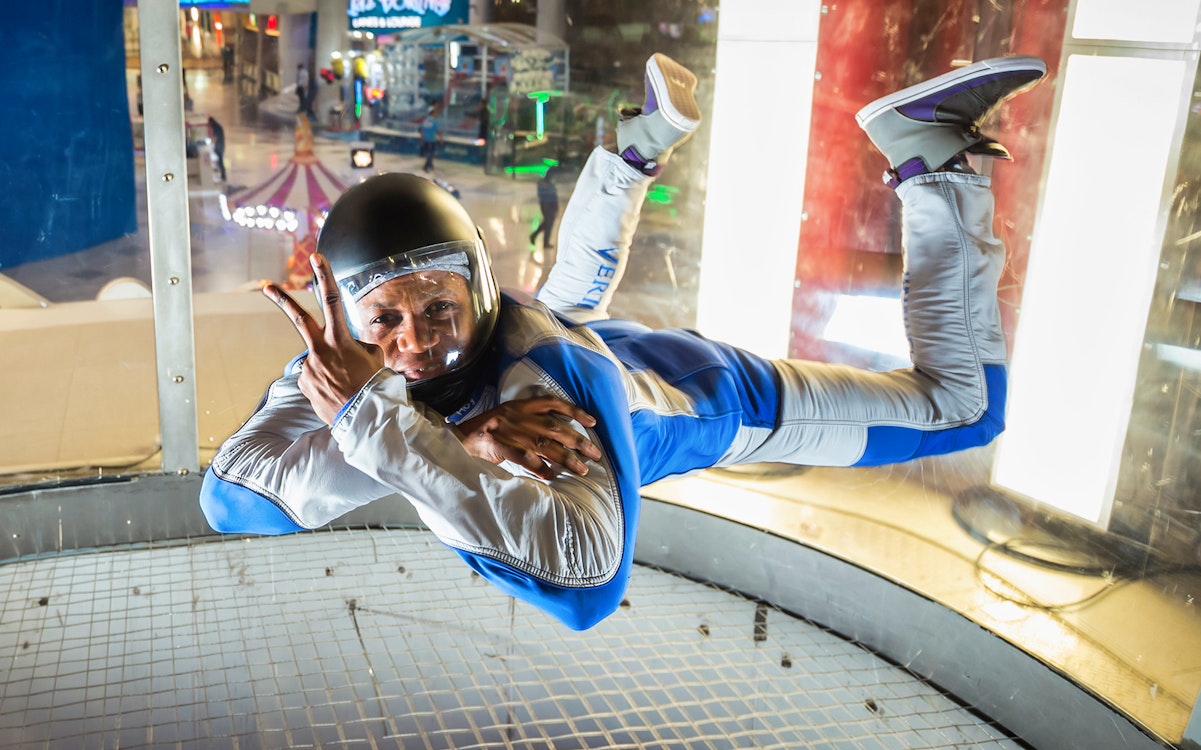 Anyone above the age of 18 is eligible for indoor skydiving in Dubai. Those between the age of 3 to 18 must be accompanied by a parent or legal guardian.
Those under 115 kg weight and 190 cm in height can go indoor skydiving
Pregnant women, individuals with heart conditions, heart, neck or back problems/dislocations are advised not to try indoor skydiving
Those under the influence of alcohol and narcotics will not be permitted to try indoor skydiving in Dubai
iFly Dubai Indoor Skydiving Reviews
Book Your Skydive Dubai Tickets