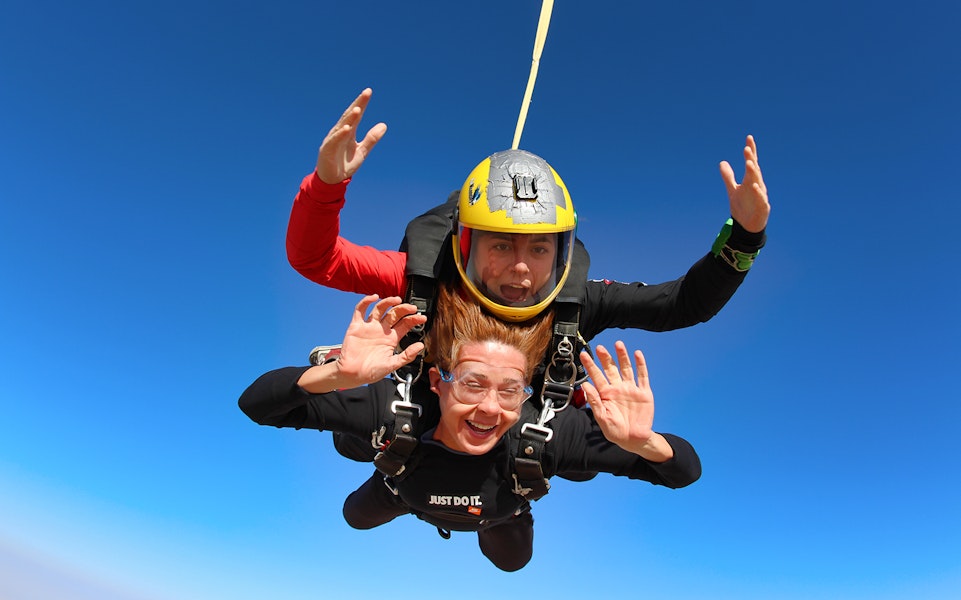 Tandem Skydive in Dubai
Skydiving, a one-of-a-kind adventure sport, has quickly become one of Dubai's most popular tourist offerings. The city has earned acclaim as one of the best tandem skydiving destinations in the world due to its world-class facilities, experienced instructors and two gorgeous locations.
From 13,000 ft in the air, fly over the sandy dunes of Dubai's deserts, or marvel at the city's skyline from high above at the Palm Drop Zone.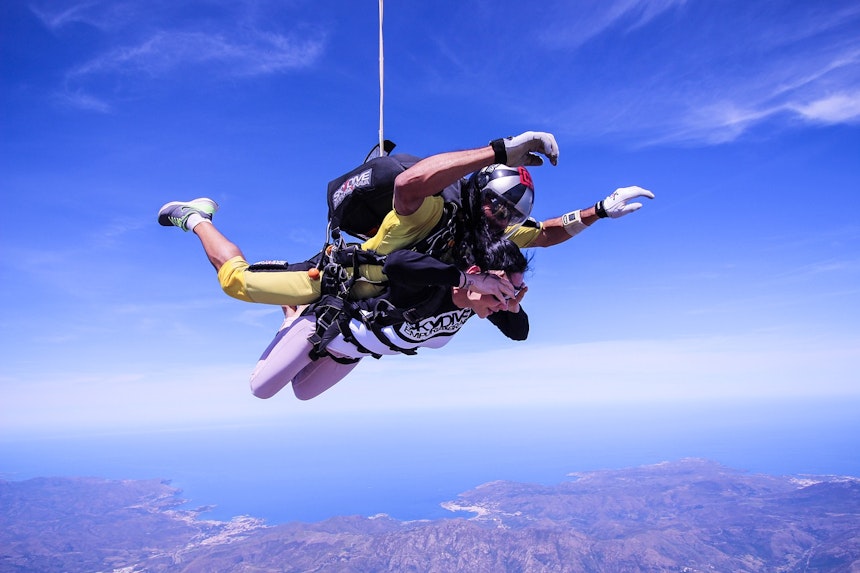 What is Tandem Skydiving?
A tandem skydive is where a first-timer or a beginner is attached to a certified skydiving professional via a harness. Your instructor controls all essential parts of your dive, like the freefall, deployment of the parachute and the landing. All you would have to do is follow your instructor's guidelines about body movements and postures.
This is the ideal option for those who are nervous to try solo skydiving, or are looking to simply try out this experience as part of a bucket list. You don't have to be experienced in skydiving to try out a tandem jump.
Read More
What to Know Before a Tandem Jump in Dubai
Locations
Age/Weight Requirements
Know Before You Go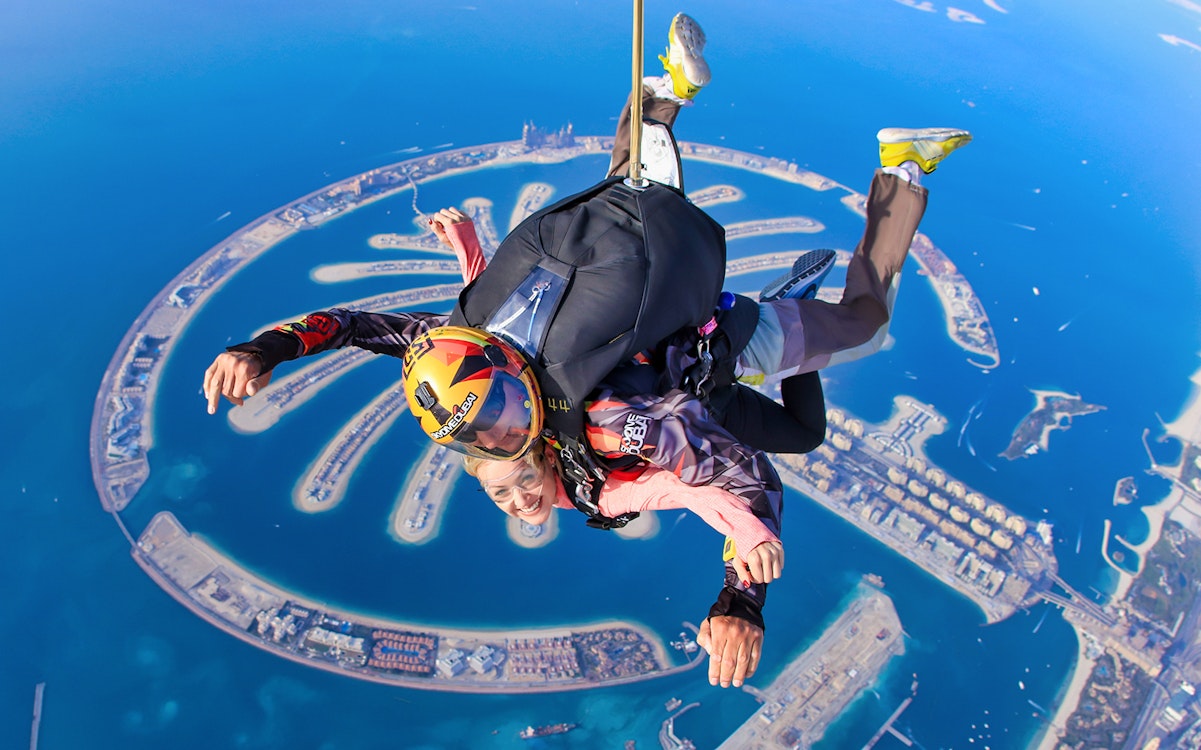 In Dubai, you can try tandem skydiving at two locations:
Palm Drop Zone: At this location, tandem jumpers will be treated to a spectacular view of Dubai's landscape, which includes the Palm Jumeirah, Burj Al Arab, Burj Khalifa and of course, the beautiful blue-green ocean.
Desert Campus Drop Zone: Here, tandem jumpers will freefall over an endless expanse of golden sand dunes. You would also get the chance to witness some rare flora and fauna that are indigenous only to deserts.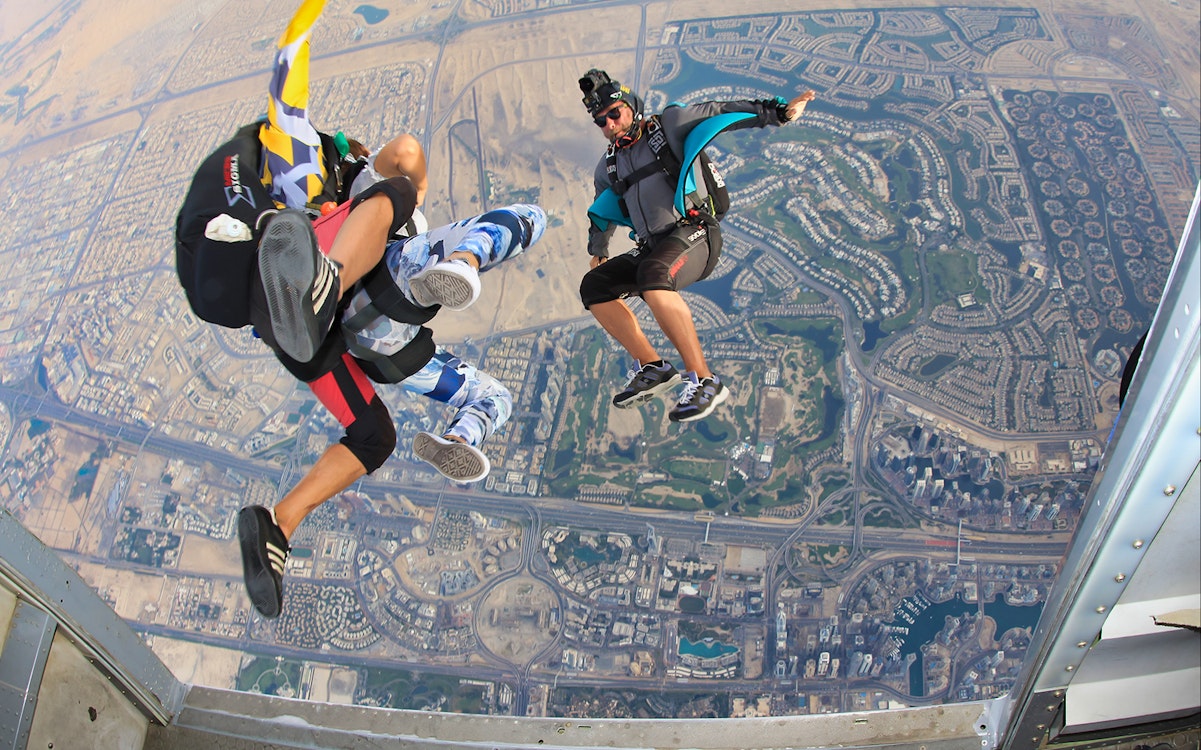 Age: Interested individuals must be a minimum of 12 years. Those between the ages of 12 to 17 must be accompanied by a legal guardian. If anyone over the age 70 wishes to try a tandem skydive in Dubai, they must sign a fitness declaration form.
Weight: Women must weigh less than 90 kg and men less than 100 kg to skydive in Dubai. Women's BMI must measure less than 27.5 and men's, less than 30.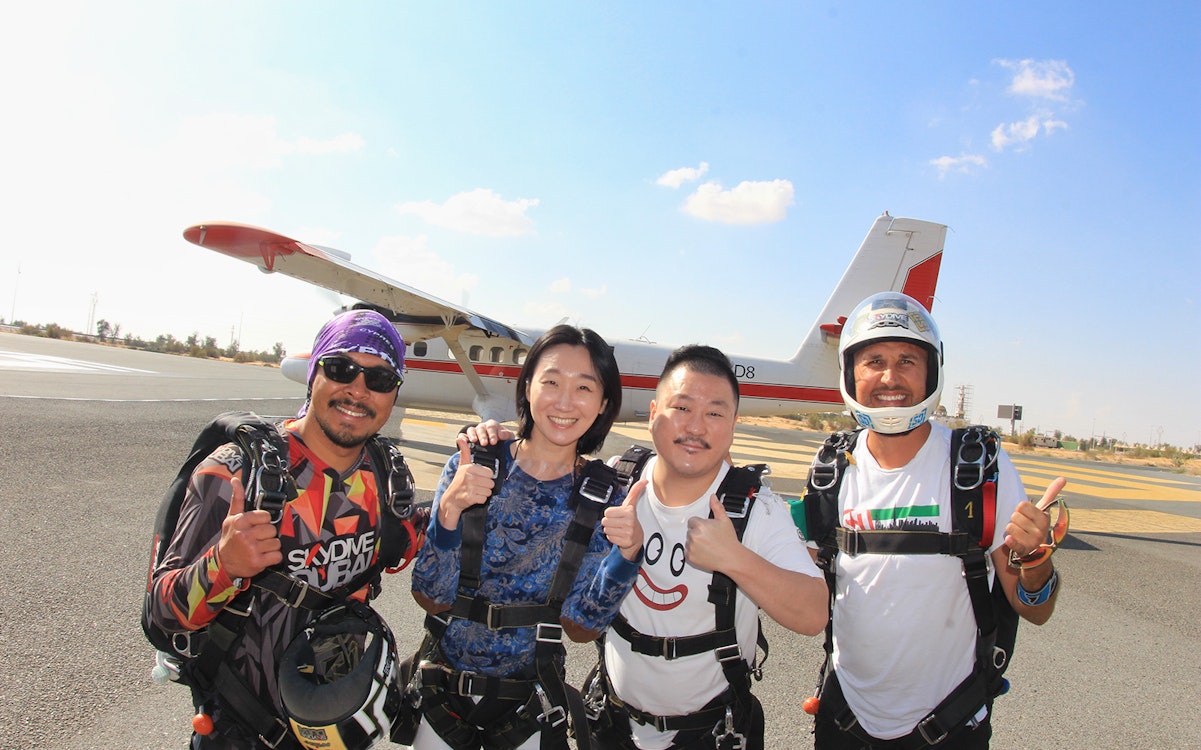 Pregnant women, individuals with heart disease and similar health issues have been asked to avoid tandem skydiving in Dubai
Do not consume alcohol or narcotics up to 24 hours before your tandem skydive or you will not be permitted to skydive.
It is recommended that you wear jeans or trousers along with a thin sweater or t-shirt for the tandem skydive, with close-toed, laced trainers/ sneakers. All jewelry and accessories are to be taken off before the skydive.
Your Dubai Tandem Skydiving Experience
Visitors are expected to reach the location of their tandem skydive at least 15 minutes before the scheduled slot. The complete experience from check-in to the end of the jump is expected to take around three hours.
Once at the location, visitors must show their signed Tandem Waiver form, valid IDs and complete standard paperwork. Flyers are then weighed and undergo a basic medical check to ensure all requirements are met.
You will then meet your tandem skydiving instructor. They will take you through a comprehensive training session to teach you body movements to adapt, safety instructions and basic skydiving terminology. They will walk you through the entire procedure and answer any questions you might have. Positions to adapt before and during the skydive will be demonstrated; the most important position to remember is to keep your arms crossed with your head held back, with bent knees. During the freefall, flyers are supposed to have their arms and legs spread while arching their body out. The right landing position will also be taught to you.
Next, you will be strapped into a full-body harness. It has four connection points at the back, where your tandem skydiving instructor's harness will be connected. 
Many people expect a tandem jump to feel like a rollercoaster or get the feeling of your stomach dropping; however, most first-time skydivers get lost in the blur for the first few seconds. Once they get their bearings, rather than feel their stomach swoop, they are more likely to feel like floating on a cushion of air. At this point, most skydivers get carried away by the spectacular views.
During the freefall, all you have to do is enjoy the splendid view below while the instructor takes the reins. 
After the 60-second freefall, your tandem skydiving instructor will deploy the parachute at around 6,000 ft after which you will slowly glide to the ground in around 5-7 minutes. Sometimes, instructors might offer a couple of spins of the parachute right before you land. Landings are usually very soft and before you know it, you are back on earth.
Tandem Skydiving in Dubai: Tips
It is highly recommended that you book your tandem jump in Dubai online. SkyDive Dubai does allow walk-ins, however, they are not guaranteed a turn since pre-booked individuals are given a priority. 
Tandem skydiving in Dubai is highly dependent on the weather. High winds, rain and any other unsuitable weather conditions could lead to your flight being rescheduled to the next available date. With this in mind, travellers are advised to book their skydiving experience at the beginning of their trip.
If your flight is cancelled due to weather and cannot be rescheduled, a refund will be provided 
It is also recommended to not book any important activity right after your scheduled dive as delays are quite common
If a female flyer wants their tandem instructor to also be female, then they can request at the time of check-in
Dress for the experience and avoid shorts, sleeveless tops, deep-cut shirts, crop tops and collared shirts. Jeans or trousers paired with a comfortable sleeved shirt and trainers or sneakers is the ideal outfit for your skydive in Dubai.
There are no recommended changes to a flyer's regular eating and drinking schedule. A regular meal in the morning is perfectly fine. Avoid filling your stomach with heavy/greasy food, or skipping meals.
While it is completely understandable to feel scared or anxious, flyers can use various methods to stay calm. These include meditation, breathing exercises, talking to the instructors or other passengers for calming tips etc.
Tandem Skydiving in Dubai FAQs
Q. Is tandem skydiving in Dubai scary?
A. Freefall through the air from 13,000 ft can be quite intimidating. However, since a certified professional is attached to you during the skydive will reassure you completely.
Q. How safe is tandem skydiving in Dubai?
A. No activity is 100% safe but tandem skydiving at a reputed institution with good facilities, experienced instructors and top-notch safety measures make it an incredibly safe experience.
Q. What to wear before tandem skydiving in Dubai?
A. Skydiving is still a sport so comfortable casual clothes, such as jeans or trousers, are recommended. The facility advises everyone to dress according to the city's culture; short shorts and sleeveless/ deep-cut shirts are not allowed. Trainers and sneakers are the best footwear for the tandem jump. 
Q. What to eat before tandem skydiving in Dubai?
A. First-time skydivers can have light, healthy meals. Do not go for your tandem skydive on an empty or too-full stomach.
Q. What is the cost of a tandem skydive in Dubai?
A. SkyDive Dubai offers two locations for flyers to indulge in tandem skydiving in Dubai - the Palm DropZone and Desert Dropzone. Prices for packages in these two locations can range from 1,699 to 2,199 AED. 
Q. Do I get pictures or the videos of my tandem skydive in Dubai?
A. Yes. A designated cameraperson will take photos and videos of your tandem skydive.
Book Your Skydive Dubai Tickets