Skydive Hunter Valley | Location, Directions, Tips & More
Contents
Why You Should Skydive at Hunter Valley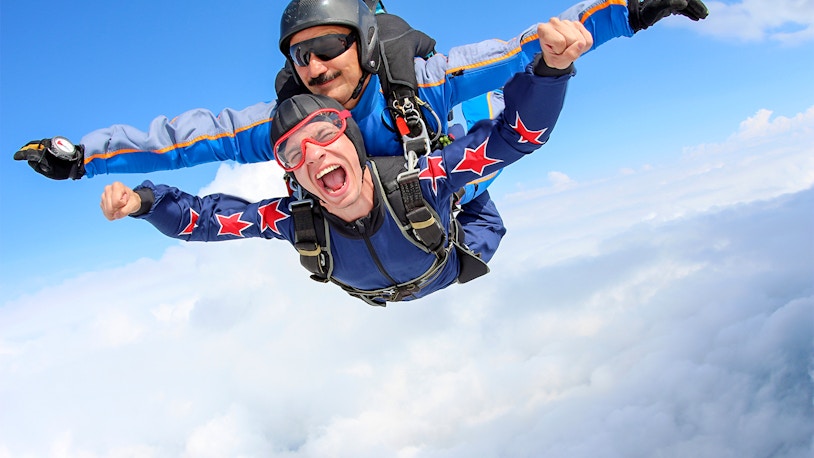 Panoramic views: At the Hunter Valley dropzone, you will have a 15,000 ft tandem freefall, guaranteeing you unmatchable sprawling views of the wine region, filled with grapevines, vineyards and lush greenery. 
Diving speed: As you freefall in the first 60 seconds after jumping out of the aircraft, you will likely hit a speed of 200 kmph. While this might make you woozy to hear about while on land, the time in the sky will pass in a heartbeat, leaving you yearning for more.
Unmatched safety: Australia is famous for its adventure sports, and ensures the utmost safety in terms of equipment, instructors and experiences.
Sydney Skydive Hunter Valley Location
Address: 74 Range Road, Whittingham, NSW 2330. Find on Maps 
Easily accessible from Sydney and Newcastle, find your way to the dropzone on Range Road in Whittingham, a short distance from the Australian Army Infantry Museum and bordering the town of Singleton.
How to Reach Skydive Hunter Valley?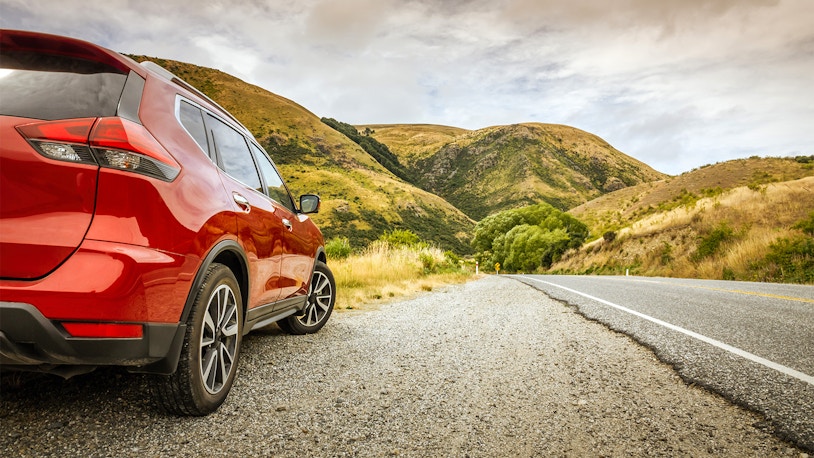 The easiest way to get to the Hunter Valley dropzone is by car or taking a taxi. 
By Car: Add the location of the dropzone onto your navigation system and you should be able to reach here seamlessly. You will have to take the New England Highway through Whittingham to reach Hunter Valley. 
By Train: From Sydney, take the Central Coast and Newcastle line. At the Hamilton Station, switch to the Hunter line and get down at the Whittingham train station, which is just around the corner from the dropzone.
Directions to Skydive Hunter Valley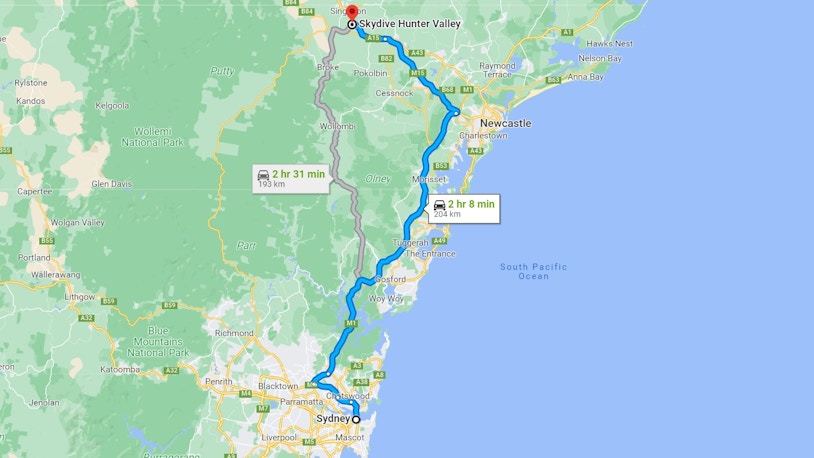 If you're driving from Sydney, take the F3 Northbound route and then take the Cessnock exit and follow the road signs to Cessnock. 
Drive through Braxton and then take a left onto the New England highway going towards Singleton. 
After arriving at Whittingham, take a left onto Range Road, cross the railway, and take the first right onto Sanitary Depot Lane. You've now reached the dropzone!
What to Expect at Sydney's Newcastle Dropzone?
Arrival at Skydive Facility
Training
Tandem Jump
Make sure you arrive at the facility at least 15 minutes prior to your appointment time. Once you arrive, you will be required to sign some paperwork and take a quick yet mandatory health-check up. Once you complete the formalities and health check-ups, you will meet your skydiving instructor for a short training session.
Your training session will cover best practices and techniques to make your jump more memorable and lasts approximately 30 minutes. Utilize this time to share any apprehensions or thoughts you might have with your instructor concerning the jump. 
Once the briefing is done, you will be provided with a jumpsuit, helmet, goggles and other skydiving gear you might require. You will then be strapped to your instructor and both of you will hop aboard the aircraft.
After about 20 minutes of a picturesque climb into the atmosphere, you will find yourself 15,000ft above sea level. You will get a signal from your instructor to jump, and when you're ready, you and your instructor will jump out into the sky! The first 60 seconds will be a freefall which will have you plummeting toward the Earth. If you've opted for some photos or videos to be clicked, make sure to smile pretty! Once the parachute is deployed, you will have about 5-7 minutes to glide down to the landing strip, and you would be allowed to steer your own canopy as well.
Know Before You Go Skydiving at Hunter Valley
Timings
Age & Weight
What to Wear
What to Eat
Every day: 8 AM to 8 PM
We suggest that you arrive at the location at least 15 minutes before your designated time slot to ensure all the formalities and procedures before your skydive run smoothly. 
Please note that skydiving experiences are extremely weather dependent. The experience will be available to you as long as the weather permits.
Age: Children below 16 years of age cannot skydive in Australia. Those between 16-18 must have an adult or guardian present during the jump. 
Weight: The maximum weight limit for skydiving is usually 115 kg. Those above can dive at the discretion of the tandem instructor. The following surcharges apply for those above 94 kgs: 
94 kg - 104 kg = AUD 50
105 kg – 114 kg = AUD 75
115 kg and over = AUD 100
Wear only comfortable or workout clothes for the jump. 
Do not wear loose footwear such as slippers or heels, as it will not be allowed. Ensure you carry with you close-toed shoes/trainers for the jump. 
The temperature at the jump point of 15,000ft will be much lower. Do make sure to carry a jacket and warm gloves for the jump. 
Those with spectacles will be provided with goggles to cover them.
Do not go skydiving on an empty stomach. Do ensure that you have eaten before you jump. 
Keep your meal light - opt for cereal, smoothies or a sub to ensure sufficient energy levels.
Avoid overeating, as it might make you queasy mid-jump and ruin your otherwise grand experience. 
Avoid drugs and alcohol at least 24 hours before your jump. You might be refused admission by the school if suspected to be under influence.
Drink plenty of water before the jump to remain hydrated.
Frequently Asked Questions About Skydive Newcastle Dropzone
What is the Skydive Hunter Valley dropzone?
One of the most scenic regions in Sydney, Hunter Valley is a winery region with a famous skydive dropzone in the vicinity.
What is the difference between Hunter Valley, Newcastle and Wollongong dropzones in Sydney?
Each of the dropzones in Sydney offers different views while jumping. Hunter Valley is known for its vineyard views, while Newcastle and Wollongong are known for their beach views. 
What is the minimum age for skydiving at Hunter Valley?
The minimum age for skydiving in Hunter Valley is 16 years. 
What is the weight limit for skydiving at Hunter Valley?
Those below 94 kg are allowed to jump. For those who weigh more, a weight surcharge will apply and they will be permitted to jump at the discretion of the instructor. 
How long does the skydiving experience at Hunter Valley last?
Your entire experience should last anywhere between 3-4 hours, however since the center is only open during weekends and skydiving is weather dependent, your experience might last longer.
What is the price of skydiving in Hunter Valley?
Skydiving at Hunter Valley starts at AUD 389 for only the jump and can go up to AUD 450 to include videos and pictures of your experience.