Skydive Sydney Requirements
When one thinks of Sydney, an image instantly appears: sandy beaches, extreme sports, the Sydney Opera House, fine dining and of course, the stunning skyline. 
Recently, Sydney's vast roster of tourist attractions expanded to include a globally-loved extreme sport: skydiving. Adrenaline junkies from all around the world aim to skydive in Sydney. 
You can go skydiving in Sydney at two locations: Newcastle and Wollongong. At each location you can witness nature at its finest!
Dive into our guide to know more about skydiving in Sydney.
Skydive Sydney: General Information
Skydiving in Sydney should definitely be at the top of your things-to-do list, irrespective of whether you're a local or a traveller. The facilities are not just for those who are experienced in the field, but for those who are first-timers and beginners as well. If this is your first-time, skydiving centers in Sydney offer tandem skydives as well.
You can skydive in Sydney at two locations: Newcastle and Wollongong.  
If you're looking for awe-inspiring views of North Wollongong beach, skydive in Wollongong. Opt for the Newcastle skydive and witness Sydney's skyline from 15,000 ft in the air. 
Prepare to spend about 3-4 hours of your day at either skydiving facility. There are several factors that play into your skydive -- most importantly the weather. Depending on the weather and availability of slots your scheduled skydive might move up or down. Book a slot early in the morning, around 08:00 AM, to plan your day accordingly. If the weather is on your side, before your skydive you will be required to sign a few forms and complete a training session. 
If you're a first-time skydiver and are nervous about jumping out of a plane yourself, you can try tandem skydiving in Sydney. With just a short 30-minute training session, you can go tandem skydiving. The main difference between a solo and tandem skydive is that while in the former you skydive alone, in the latter, you will jump with a trained professional skydiver attached to you by a harness. The instructor controls the jump, parachute deployment and landing completely. 
The entire skydiving experience lasts about 5-7 minutes. The immediate part after the jump -- the freefall -- lasts about 60 seconds. Once the parachute is deployed, you gently soar over Earth for about 5-7 minutes before landing.
Best Time to Skydive in Sydney
Through the year, Sydney enjoys a sunny, pleasant climate. September to February, the city witnesses warm sunlight and some humidity. Winter season falls between June to August with average temperatures between 8-17 degrees Celsius. Autumn falls 14-22 degrees Celsius (58-72 degrees Fahrenheit). 
You can go skydiving in Sydney all through the year; just make sure to check the weather forecast for rainfall. Your skydive facility will inform you in the occasion of any change in schedule. It is recommended to skydive during the early hours of the day, when there's a better chance of clear skies. In this way, you also get sharp, high-quality photos and videos.
Skydive Sydney: Safety Rules and Regulations
Here are a few guidelines and regulations to follow before skydiving in Sydney.
Health Requirements
Age
What to Wear
Anyone under 95 kg can go skydiving in Sydney. Those between 95-110 kg may have to pay a surcharge. Any individual above 110 kg will be assessed with a health checkup.
The minimum age to skydive in Australia is 12 years. However, it is mandatory that those between the age of 12 to 18 be accompanied by a parent or legal guardian on the day of the jump. There is no maximum age limit but people with cardiovascular conditions and vertigo should refrain from this activity.
Wear loose, casual clothing and sneakers. Heels and high boots will not be permitted at the center. All skydivers will be provided with a custom jumpsuit and if required, fleeces and gloves for the winter season. Avoid any material that can get caught in the jumpsuit.
More Reads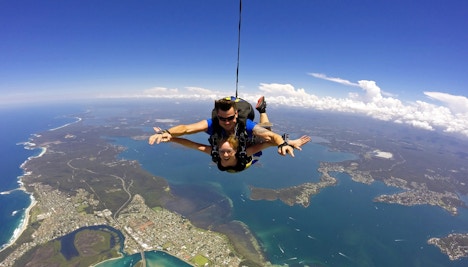 Skydive Newcastle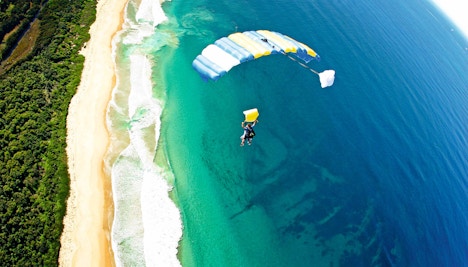 Skydive Wollonong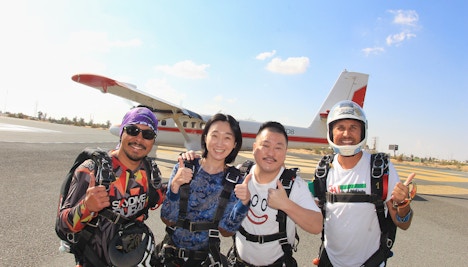 Skydive Sydney FAQs