Everything to Know About Indoor Skydiving
Contents
Indoor skydiving is quickly gaining popularity as a fun alternative to outdoor skydiving. So much so that it has been widely petitioned to be considered an Olympic sport! 
You must be wondering how indoor skydiving works and why anyone would opt for it when they could just as well skydive over some beautiful coastline. We're here to tell you why indoor skydiving is, in its own way, a thrilling experience.
What is Indoor Skydiving?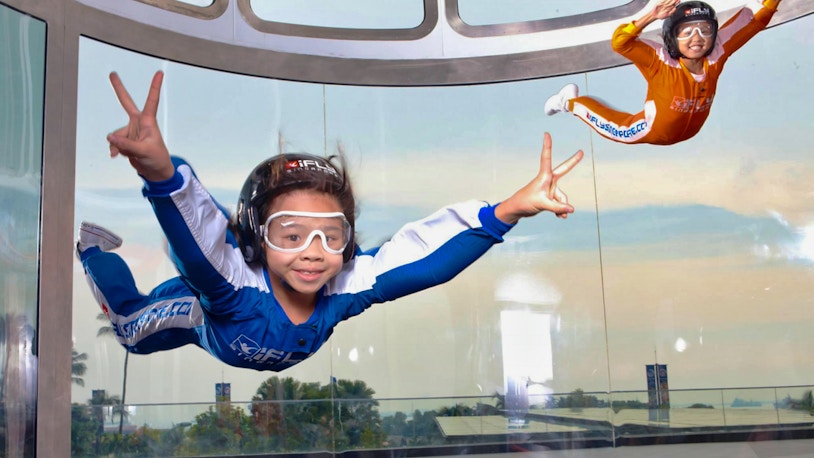 You know how you prepare to freefall for 5-7 minutes out of an airplane while skydiving? Indoor skydiving is nothing like this! 
If you're not prepared to try jumping out of an airplane, indoor skydiving is the next best option. You don't have to worry about nerves and anxiety, or about jumping out of an airplane from a height of 15,000 ft. Indoor skydiving is carried out in a controlled, safe environment where you simply float on a cushion of air in large, circular wind tunnels. Indoor skydiving is completely safe, convenient and cost-effective.
You will be monitored in a completely controlled environment by licensed professionals. Various sport centres in the world host indoor skydiving facilities, like Dubai and Singapore.
How Does Indoor Skydiving Work?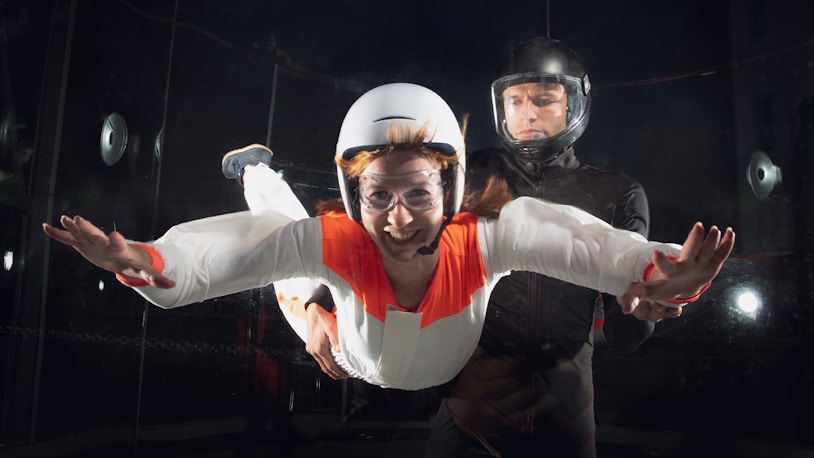 Each indoor skydiving facility is designed and equipped with large wind tunnels. Heavy gusts of wind are pushed vertically upwards through these tunnels, where you're held up by gusts of wind, making it seem like you're flying. This gives you the thrill and experience of skydiving without the pressure of having to actually jump out of an airplane.
These vertical tunnels are enclosed by strong, thick glass and are about 10 m in height. They counter gravity through 'drag' and not 'lift'. Operated by giant fans, heavy winds at approximately 200 km/h are pushed upwards, on which your body will float mid-air similar to the experience of an actual freefall. The fan speed is adjusted to accommodate the weight of each skydiver. Each wind tunnel comes prepared with a safety net at the bottom to prevent any rare mishaps.
Indoor Skydiving Around the World
Dubai
Address: Third Floor, Play Nation Area, City Centre Mirdif، Ghoroob, Sheikh Mohammed Bin Zayed Road - United Arab Emirates
Timings:
Monday to Thursday: 12 PM to 9 PM
Friday & Sunday: 12 PM to 11 PM
Book Dubai Indoor Skydiving
Singapore
Address: 43 Siloso Beach Walk, #01-01, iFly, Singapore 099010
Timings:
Mondays to Sundays (except Wed): 9 AM to 10 PM
Wednesdays: 11 AM to 10 PM
Book Singapore Indoor Skydiving
Know Before You Go Indoor Skydiving
Age & Weight
Before the Flight
Safety & Accessibility
Flight
Eligibility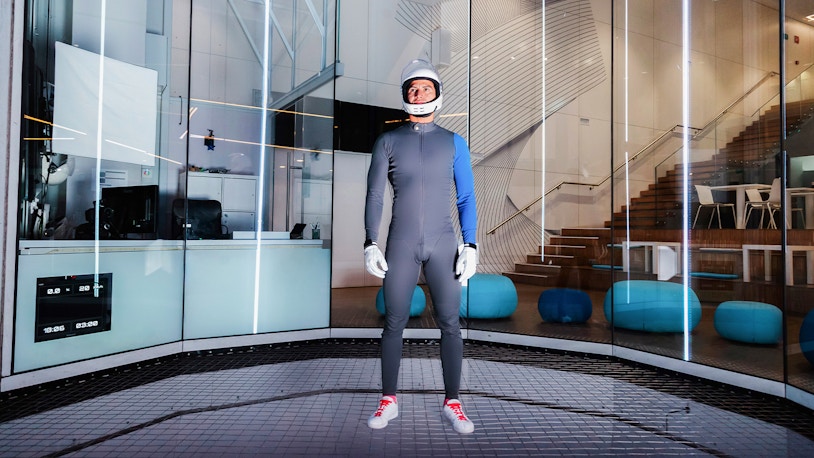 Age Limit:
Indoor skydiving is usually open to people of ages 3 to 103, however there are some restrictions for certain age groups. Children under the age of 18 must be accompanied by an adult. As long as you can fit into the flight suit and are reasonably fit, there's no reason why you can't fly. 
Body Weight: 
All flyers must weigh under 136 kg. If your weight lies between 114 and 136 kg, please inform the facility beforehand to make the necessary arrangements and safety equipment for your flight.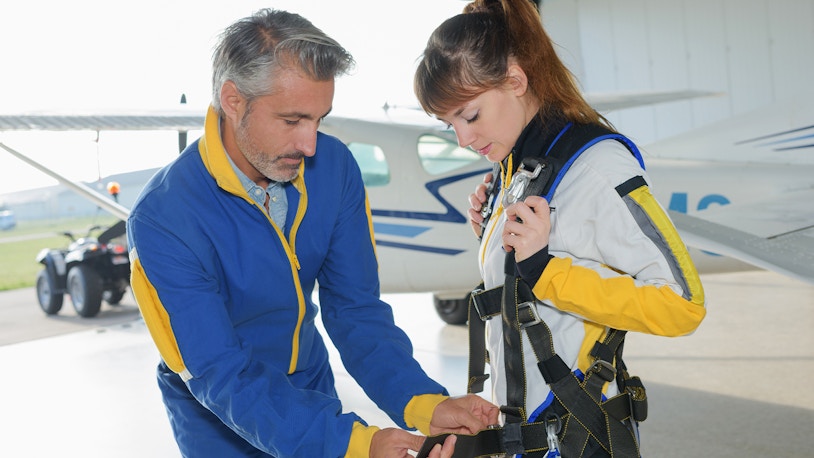 What to Wear: 
Wear comfortable clothes that are not too loose, and closed shoes with socks. We suggest wearing t-shirts with a pair of joggers and lace-up trainers. You will be provided with a flight suit to wear over your clothing along with goggles, shoes and earplugs before your skydive. Do also keep a brush with you if your hair is long. 
What to Eat: 
Ensure that you have eaten a light meal before flying, as this will help maintain your energy levels throughout the session. Eating something like fruits, vegetables or a sandwich will provide you with enough energy to enjoy the full duration of the flight. It is also recommended to bring along a bottle of water in order to stay hydrated.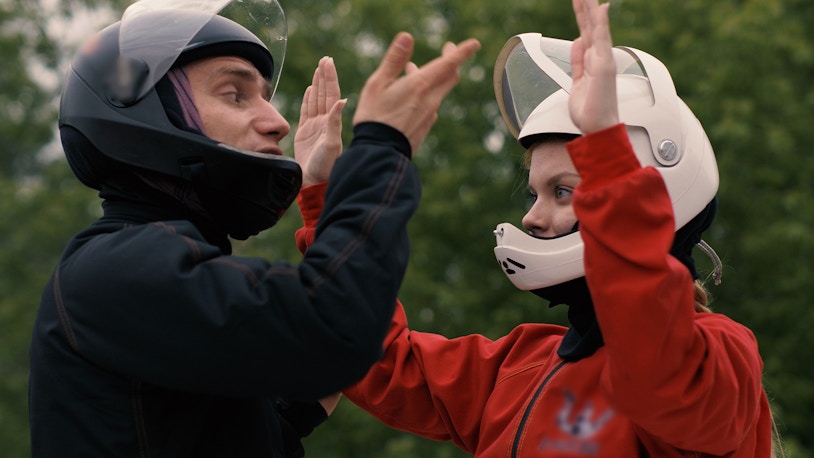 Training & Waiver:
Before flying, all participants receive a comprehensive briefing from trained instructors. This ensures everyone knows the safety rules and how to maneuver properly in the wind tunnel. You will be asked to fill out and sign a waiver, which is a basic check to ensure that you meet the requirements for indoor skydiving. You can even fill this form online before your scheduled flight.
Accessibility: 
Indoor skydiving is open to anyone with a disability as well. However, it is better that you contact the facility about your disability beforehand. While it can't be guaranteed that you will be able to take flight, we will try our best to accommodate you.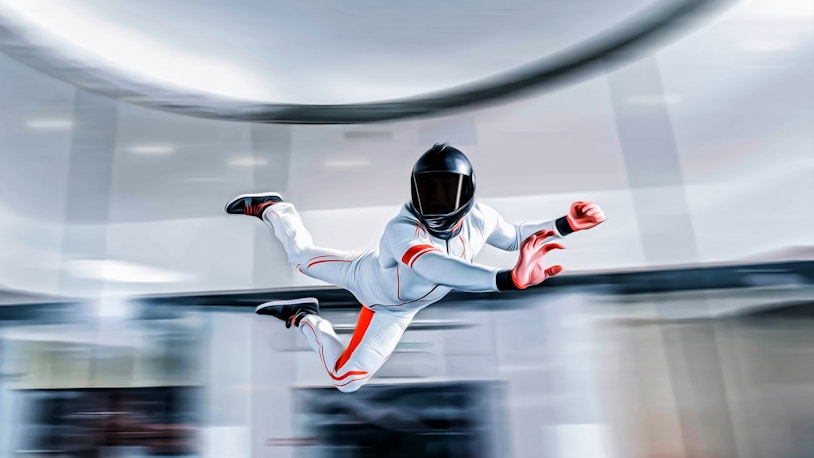 When it's your turn to fly, the instructor will call you into the wind tunnel. You can simply lean in and within seconds, you will be floating in the air! Your instructor will also show you some tips and tricks that you may perform, if you wish, during your flight. 
The wind controller will click pictures and videos of you during your flight, which you can buy afterward. If time permits and depending on availability, you can also go in for an extra flight for an additional cost. You will also be given a flight certificate at the end of your experience for you to remember it forever.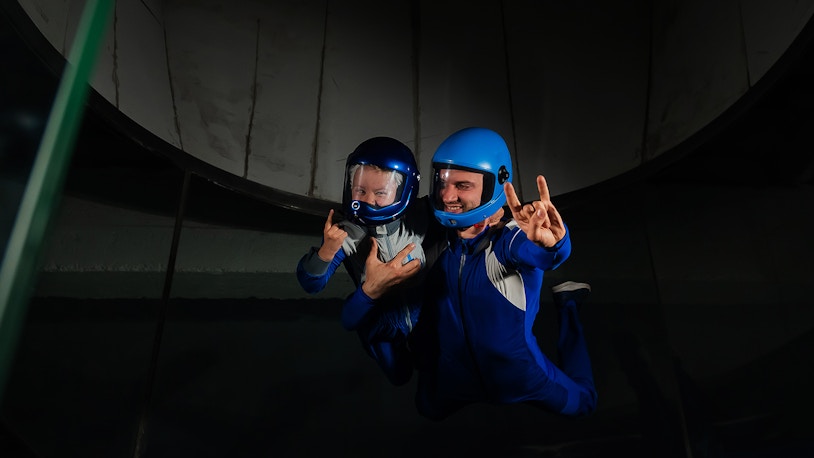 Who Can go Indoor Skydiving?
You are 3 years or older (able to comfortably wear the flight suit and helmet).
Pregnant women are prohibited. 
People with previous neck, back, or shoulder injuries should consult their doctor before flight. 
You don't have a dislocated shoulder or aren't wearing a hard cast.
If you are under the influence of alcohol or drugs, you will be barred from taking the flight. 
Children under 18 must be accompanied by a parent or guardian and will also need to provide a signed consent of the parent/guardian.
Frequently Asked Questions About Indoor Skydiving
What is indoor skydiving?
Indoor skydiving allows you to experience the thrill of skydiving without having to jump off a plane 15,000 ft off the ground. You float mid-air over a cushion of gushing air at speeds of 200 km/h in a vertical wind tunnel, allowing you to experience free fall as you would in an actual skydive. 
Where can I go indoor skydiving?
There are many indoor skydiving facilities located around the globe by iFly. You can try indoor skydiving in Dubai, Singapore, and even Australia!
Who can go indoor skydiving?
Indoor skydiving is suitable for everyone above 3 years of age in a reasonable state of health and fitness. 
Is there a weight limit for indoor skydiving?
Yes, the maximum weight for indoor skydiving is 136 kg. If your weight lies within the range of 114 to 136 kg, please inform the facility beforehand to make the necessary weight accommodations.
How long does an indoor skydiving session last?
An indoor skydiving session typically lasts for 60 seconds. If time permits, you can take an extra flight at an additional cost, depending on availability.
What should I wear while indoor skydiving?
The recommended attire for indoor skydiving is a tracksuit or t-shirt and joggers along with lace-up trainers. You can also avail protective footwear on rent. Jewellery and loose items must also be removed before entering the tunnel.
What should I eat before indoor skydiving?
Have a light meal like sandwiches or a smoothie bowl before you go indoor skydiving. Drink water before and after your flight to keep yourself hydrated.