Great Ocean Road Skydive
Melbourne, capital city of Victoria, is blessed with scenic beauty; clear skies over the vast blue-green ocean along the Bass Strait and Port Philip Bay define the city's layout.  Each year, thousands of visitors skydive in Melbourne to witness this beauty. You can skydive at three locations in Melbourne: St. Kilda, Yarra Valley and Great Ocean Road. If you're a thrillseeker looking for splendid views of the open sea, skydive at Great Ocean Road.
Why Go Skydiving at Great Ocean Road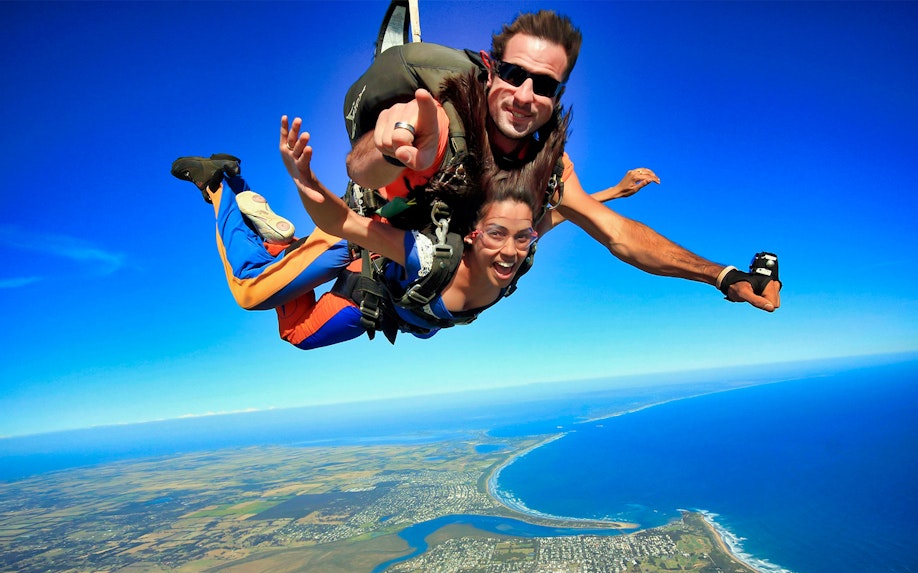 The Great Ocean Road is known worldwide as one of the most scenic routes to drive by. Imagine skydiving at Great Ocean Road! Unimaginable panoramic view of the Bells Beach and the ocean will throng you as you freefall from 12,000 or 15,000 ft above sea level. depending on which one you prefer. You'll have a 7-minute ride back to base: an opportunity you'll never forget in your lifetime.
The view overlooking Great Ocean Road is sure to leave you utterly spellbound. The 360-degree panoramic view of Melbourne's blue-green coast curved around sprawling farmlands and the city's landscape is definitely worth your time.
Great Ocean Road Skydiving Experience
Skydiving seems like an activity built for the daredevils. Some might think it's too dangerous, but the view and the rush of adrenaline are worth the gamble. A description of the entire process will perhaps be useful.
Soon after you have made your bookings you will be allocated the time slot for the jump. Try and get to the skydiving institute in advance. Then they will ask you to look through and fill out some paperwork. After that, a standard health check of your weight and BMI would be carried out.
Next, you'll meet your support team and tandem skydiving instructor. The team will give you all the technical know-how you need to understand, regarding body positions, skydive language to be familiar with etc. Any queries you may have at this point could be clarified. After this, they will strap the harness onto you and you'll be taken towards the aircraft where you'll prepare to fly with your experienced tandem skydive instructor. You both will jump together, attached by a harness.
When the plane reaches the designated height, the two of you will take the plunge together and freefall over Great Ocean Road for about 60 seconds. Your parachute will be engaged after this and you will slow down in air, allowing you to better take in a panoramic view of the beautiful ocean. The canopy has an Automatic Activation Device that automatically deploys the parachute after you reach a predefined altitude. You'll float back to the base over the next 5-7 minutes while you appreciate the captivating scenery around you. The view of the Bass Strait ahead of you will surely keep you engrossed. Upon reaching the base, you can collect any extra photos or videos you may have paid for.
Know Before You Go
The Great Ocean Road skydiving facility in Melbourne is open from 09:00 AM to 05:00 PM, every day of the week. Timings may differ based on the day of the week, so plan your visit accordingly. We recommend booking an early morning slot to get the best view!
The Great Ocean Road skydive facility is located at 1421 Barwon Heads Rd, Connewarre VIC 3227, Australia; a little over an hour's drive from Melbourne CBD.
Great Ocean Road Skydive Reviews
"I've jumped with these guys twice now. This time was with a group for my boyfriend's bday. Super easy to book with (I did it through adrenaline as it was a bit cheaper for that many of us) and hey let me change names and add someone else at last minute. The staff is all great. Really distract you and calm your nerves. Every single one of us thought the crew was legends. The adrenaline rush of your life. Honestly, you will be buzzing for hours after it. Nothing compares to it. Beautiful view. Falling to earth. Amazing!"

missAshlea_jade
"Having enthusiastic staff and very personable instructors makes the sport of skydiving that much more entertaining and enjoyable. This was my second jump at Barwon Heads and thanks to Clayton I had another fabulous jump. If you are contemplating a first jump and a bit nervous, be assured that with instructors like Clayton you will be in the hands of a true professional and will be assured of a truly amazing experience in a relaxed atmosphere. Although the instructors complete as many as ten jumps a day they exhibit very contagious excitement and do their utmost to ensure you have a great jump. I have been jumping off and on since 1986 and now in my 70's but still enjoy the excitement of the jump, age is not a barrier, so as long as you are reasonably fit, have a go."

Bob E