Melbourne: St Kilda Skydive
The land down under is a tourist favorite. In addition to a wonderful convergence of different cultures, Australia is also abundantly endowed with natural beauty. This is nowhere more apparent than at Victoria's capital, Melbourne. The extensive beaches and lush greenery looks even more spectacular from 15,000 feet above sea level. Thousands of visitors skydive in Melbourne each year to witness this beauty. In Melbourne, you can skydive from three different locations. If an expanse of greenery is your thing, the St. Kilda skydive must be at the top of your list -- where the sea meets the land, a great setting for a skydive.
Why Go Skydiving at St. Kilda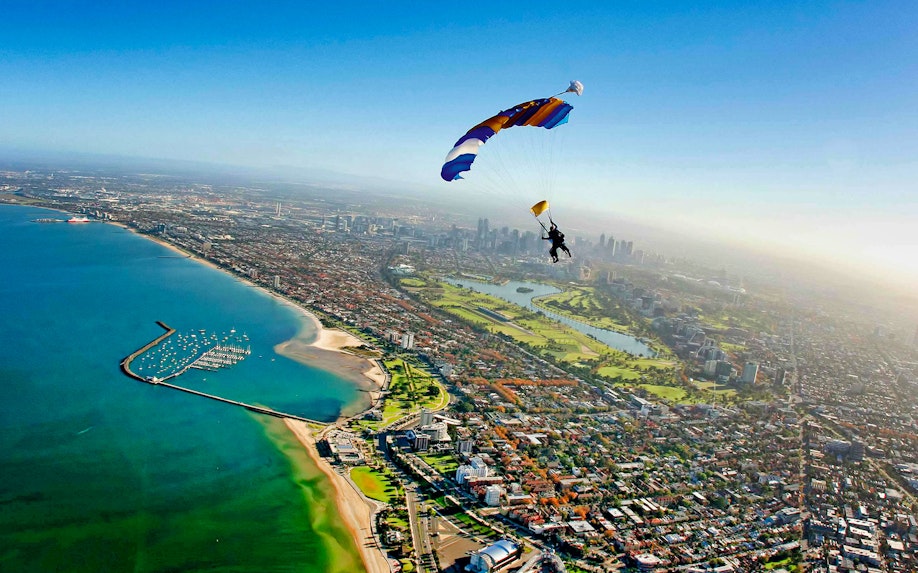 If there's one thing that will guarantee a good time in Melbourne, it's your St. Kilda beach skydive. It is Australia's most popular skydiving destination by far and for good reason. A skydiving experience at St. Kilda will give you a breathtaking view of Melbourne's bay area and city from 15,000 feet in the air.
Soak in the spectacular blue-green ocean that gently curves around the city's landscape while you fly high. Every skydiver is sure to take back a treasure trove of memories.
St. Kilda Skydiving Experience
Skydiving looks like an activity meant for the daredevils. Some might think it's too hazardous, but the view and the adrenaline rush are worth the risk. Here's how your experience will go: You will be allotted a time slot for your skydive after you make your booking. Try and get to the skydive center well in advance; you will then be asked to read through and fill out some paperwork. After this, a basic health check will be carried out. These test results will be used to make your skydive more comfortable and secure.
Next, you will meet a support team for a 30-minute training session. The team will provide all the technicalities you need to learn before your skydive and any queries you may have can be clarified at this point. After the session, the support team will kit and harness you in preparation for your tandem skydive. You will then be taken to a specially modified aircraft at this point, where you will meet your experienced tandem instructor -- your best friend and teacher for the next hour or so. The harness will bind both of you together for the dive.
Once the aircraft reaches the required height, the fun part begins! Your jumpmaster and you, bound, will exit the aircraft together. The first part of your jump is the freefall which will last for about 60 seconds. Your tandem skydive instructor will then deploy the parachute, which has an Automatic Activation Device (AAD) that automatically deploys your parachute after you reach a predetermined altitude.
Over the next 5 to 7 minutes, you will float back to the base while enjoying the captivating scenery around you. Witness the sweeping view of Melbourne CBD and the gorgeous St. Kilda beach that is lit with striking blue-green hues. Once you reach the base, you can collect any photos or videos you may have paid extra for.
Know Before You Go
The skydive facility at St. Kilda is open every day of the week from 09:00 AM to 05:00 PM. To get the best experience, we recommend reserving an early morning slot!
Skydive St. Kilda is located at 42A Marine Parade, St Kilda VIC 3182, Australia. It is located just about 20 mins from Melbourne's city center.
St. Kilda Skydive Reviews
"Completed a tandem skydive this morning with Rich, what a fabulous experience! Rich was an absolute pro, reassured me all the way and thanks to his calming effect I was able to relax and actually enjoy every second in the lead up to the jump, and the jump itself. Overall the whole end to experience on the day was very efficient, and I felt safe in the hands of everyone at Skydive Australia. First time I have had a celebratory champers before 10.30 am in a while!"

Satine181
"I had my first skydive on Sunday for my 40th birthday after it was postponed on my actual birthday due to the weather. The communication leading up to the day was fantastic and we didn't have too long of a wait on the day. James was fantastic and very upbeat which helped calm my nerves. I was terrified as I've had a fear of heights for as long as I can remember. However, I had the absolute best time and would do it again to really appreciate the view and the actual skydive itself. My only feedback was that it would've been good to be told what things meant such as the countdown before the parachute was opened so I knew what the signals were for. I would definitely recommend Melbourne Skydive to anyone wanting to Skydive."

Journey606541