Skydive Yarra Valley | Location, What to Expect, Tips, & More
Contents
Why You Should Skydive at Yarra Valley
Panoramic views: At Yarra Valley, you will have a choice between a 12,000ft or 15,000ft freefall, guaranteeing you views of Port Phillip, Melbourne's skyline, and the miles of lush vineyards below.  
Diving speed: In the first 60 seconds before the chute is deployed, you will experience a freefall where you'll find yourself plummeting at a speed of 200 kmph. Make the most of this, as this truly is a once-in-a-lifetime experience. 
Unmatched safety: Australia is known for its adventure sports and activities, and all institutes adhere to the safety standards set in place.
Skydive Yarra Valley Location
Address: Lilydale Airport, 13 MacIntyre Ln, Yering VIC 3770, Australia. Find on Maps
We recommend that you either take a cab or drive here yourself as the location is slightly outside the city limits. Simply enter the destination in your navigation system and you should arrive here with no hassle.
Getting to Skydive Yarra Valley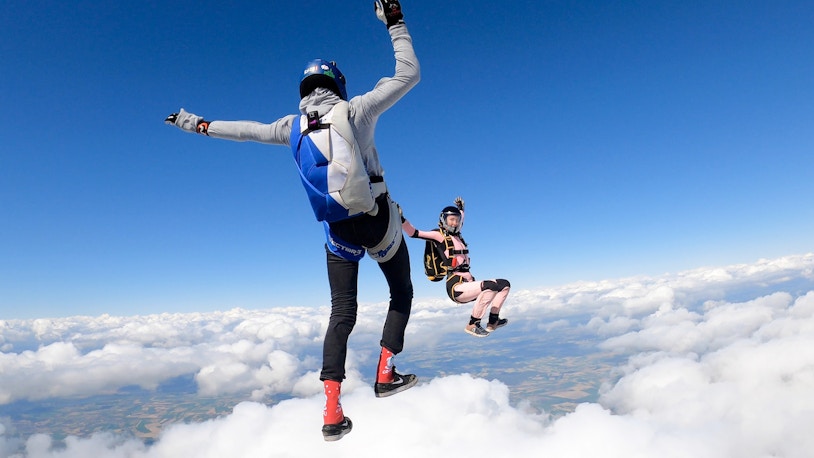 By Car: About 44 km to the east of Melbourne CBD, it takes about 45 minutes to travel to Yarra Valley from Lilydale. If you're coming by car, get onto the Eastern Freeway and then take a right after the Springvale Road exit. Once you reach the Maroondah Highway, take a left and continue towards Chirnside Park. Take a left onto Victoria Road and then a right onto MacIntyre Lane. The dropzone is on the left of the airport.
By Train: You can catch a train to the Lilydale station, which is a 10-15 minute cab ride to the dropzone.
What to Expect on a Yarra Valley Skydive?
Arrival at the Skydive Facility
Training
Tandem jump
At the time of booking, you will be asked to choose a time slot. Try to book an early slot for less crowd and pleasant weather. Do arrive at the location a little in advance as you may have to forgo the jump if you miss your slot. Once you reach, you will be taken in to sign some paperwork and to get a quick mandatory health check up done.
When the health check up is done and other paperwork is signed, you will be introduced to your instructor or jumpmaster, who will be jumping with you. A 30-minute briefing session will be conducted where you will learn about the best practices of sky-diving to ensure maximum fun and minimum injury. It is normal to be nervous at this stage, feel free to discuss your concerns with your instructor. 
Post the training, you and your instructor will be strapped onto the same harness and will climb aboard the aircraft to take you to the designated height. 
Once you get the signal from your instructor, hold tight and get ready for the adventure of a lifetime. The first 60 seconds will be a freefall, where you will likely hit a speed between 200-220 kmph. We recommend you opt for the handicam package to capture memorable events from the fall. Once you cross a certain threshold, the automatic device on your canopy gets activated and the chute deploys. You can steer the canopy for the next 5-7 minutes as you glide down to the landing strip.
Frequently Asked Questions About Skydive Yarra Valley
What is the Melbourne Skydive Yarra Valley dropzone?
One of the most scenic regions, here you will be jumping over Yarra Valley against a background of vineyards and Port Phillip. 
What is the difference between Yarra Valley, St Kilda, and Great Ocean Road dropzones in Melbourne?
Yarra valley shows you panoramic views of the beautiful Yarra river in Victoria, St Kilda is a magnificent view of the inner seaside suburb of Melbourne, and the Great Ocean road showcases the rugged beauty of the Australian rough waters. 
What is the minimum age for skydiving at Yarra Valley?
You cannot skydive in Australia if you are below 16 years of age. 
What is the weight limit for skydiving at Yarra Valley?
The ideal weight limit is below 94 kgs, however those above this limit can also jump for an extra charge. The maximum limit is 95 kg for women and 100 kg for men. 
How long does the skydiving experience at Yarra Valley last?
Your entire experience, from start to finish, should last between 3-4 hours. However in case of unforeseen circumstances such as weather conditions, the time could extend.
What is the price of skydiving at Yarra Valley?
Skydiving at Yarra Valley starts at AUD 349 for only the jump, and can go up to AUD 528 including a video and pictures of your experience. 
Know Before You Go Skydiving at Yarra Valley
Timings
Age & Weight
What to Wear
What to Eat
The skydiving center is open all seven days a week from 8 AM - 8 PM. However, skydiving will only be operational under favorable weather conditions.
We suggest that you arrive at least 15 minutes before your designated time slot to ensure that all the activities run smoothly and on time.
Age: To skydive in Australia, enthusiasts must be at least 16 years of age. Everyone below 18 must be accompanied by a parent or legal guardian on the day of the jump. 
Weight: Those above 94 kg will be required to pay an extra charge, which will go toward the maintenance of the equipment due to the extra weight. Those below 94 kg can jump without any concerns.
It is recommended that you remain comfortable while skydiving,  perhaps in athleisure. 
Any form of open footwear, such as slippers and heels, are not permitted. Please ensure you are wearing running/training close-toed shoes for the jump. 
At the plane's highest altitude, the temperature drops. Carry a jacket and gloves to ensure you're warm and comfortable. 
Feel free to wear your usual visual aids such as contact lenses and spectacles, as you will be provided with goggles that fit over them.
You might find that the nerves before the jump curb your appetite, so make sure to have some food in your system before a jump. 
Keep your meals light - opt for cereal or a smoothie bowl to ensure you have enough energy for the jump.
Avoid greasy food as it will make you queasy, and the discomfort would ruin your experience.
Avoid drinking or taking drugs 24 hours before the jump as many skydiving schools turn away people if any form of substance use is detected.
Stay hydrated before the jump.