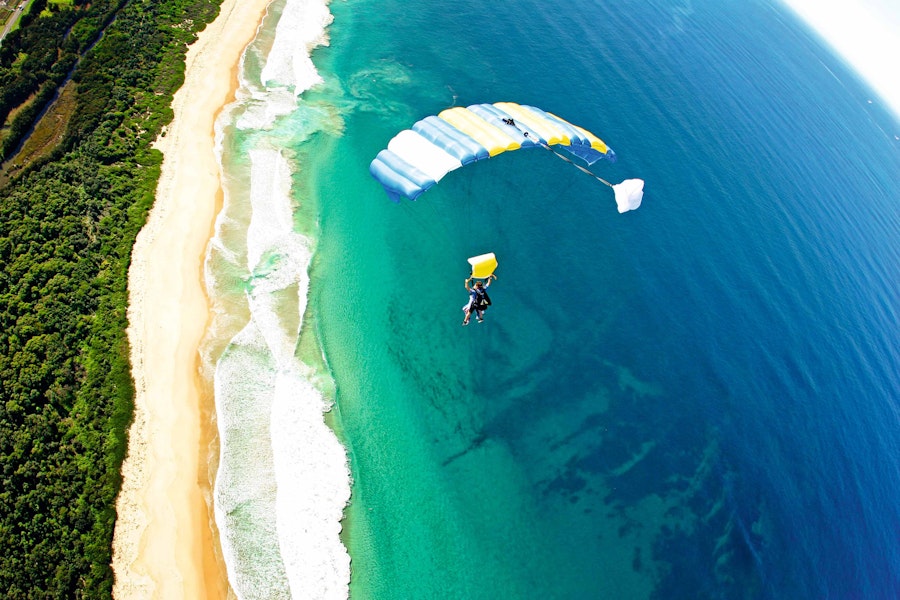 Skydiving in Wollongong
Sydney, Australia's culture hub, is home to a wonderful variety of experiences. One such attraction that has gained fame over the last few years is skydiving. Hundreds of visitors flock to the city to go skydiving in Sydney and experience the highly-desired adrenaline rush.
If gorgeous views of the blue ocean and golden-white sands is your thing, skydiving in Wollongong should be right at the top of your bucket list.
Why Go Skydiving in Wollongong Sydney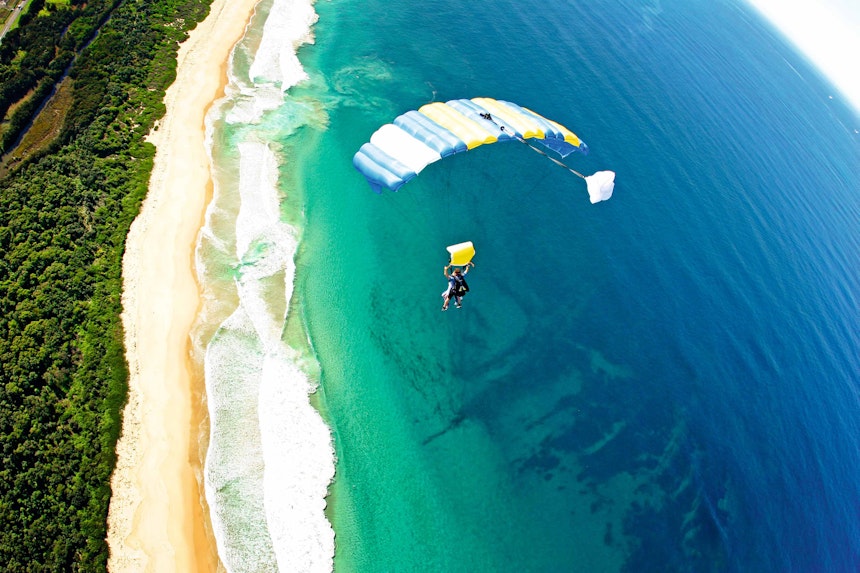 Located on the coast of the Tasman Sea in the Illawarra district, Wollongong is a city in southeastern New South Wales (NSW), Australia. It is just about an hour away from Sydney's Central Business District and is an ideal skydiving destination for nature lovers and adrenaline enthusiasts in, or visiting the city.
Wollongong's skydiving area, North Wollongong Beach, is located 2 km northeast of the downtown area. What makes Wollongong an excellent skydiving location, is that it's Sydney's only beach skydive. If you opt to skydive in Wollongong, prepare to feast your eyes on the view of a lifetime. One of the few beach skydives in the world, you'll be treated to a spectacular view of the stunning North Wollongong beach. The earthy landscape is a beautiful blend of the blue-green beach, hills, and tiny dotted houses.
Skydiving in Wollongong Sydney Experience
Skydiving as an adventure sport can be tried by everyone, not just adrenaline junkies! Here's how your Wollongong skydive will go.
Make your way to the drop zone in Stuart Park; you can simply drive down, or take a shuttle. We suggest keeping your day free since skydiving is a weather-dependent sport and your activity could be moved around by a few hours. The Wollongong skydive center opens at 07:00 AM. No matter the time of your scheduled skydive, ensure to get to the facility a little earlier. You will then have enough time to fill out the necessary paperwork and complete a standard health checkup. 
Post this, you will complete a short, 30-minute training session with your skydiving instructor. You will learn about tandem skydiving, body movements and positions to adapt before and during your skydive, essential safety rules and guidelines and more. Here is when you can ask any and every question you might have.
Next, you will be given a jumpsuit, helmet and goggles, along with a harness with which you will be attached to your tandem skydiving instructor. You will then be led towards the airplane for a short journey towards the skies. After reaching a certain altitude, you will be ready for the much-awaited skydive.
Your instructor, attached to you via the harness, will give you the signal to follow his/her lead and jump. Now's the time to let go! You will freefall for about about 60 seconds at an exhilarating speed of 200-220 km/hr. The first few seconds will feel overwhelming and then you will feel completely liberated. 
The parachute will then be deployed by your tandem skydiving instructor. It is designed with state-of-the-art AAD technology which auto-engages at preset altitudes. Following this, everything will slow down and you will gently float back down to Earth over the next 5-7 minutes. Now is the time to take in the spectacular panoramic view of Wollongong beach, other Southern Sydney beaches, Royal National Park and Illawarra. Don't miss the famous Opera House and keep a lookout for whales and dolphins.
Know Before You Go
The skydive Wollongong center is open every day of the week, throughout the year. Since the facility opens early morning, you can plan your day accordingly.
Timings are: 09:00 AM to 05:00 PM.
The Skydive Wollongong facility is located just about an hour from Sydney's Central Business District. You can easily reach it by car, or take a shuttle. It is located at George Hanley Dr &, Cliff Rd, North Wollongong NSW 2500, Australia.
Skydive Wollongong Reviews
More Reads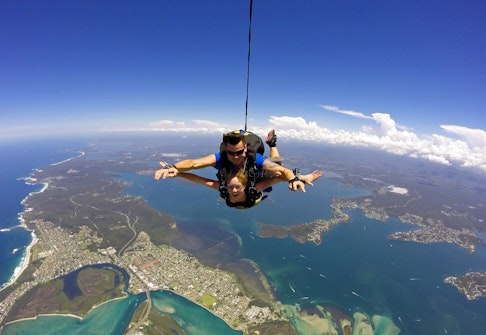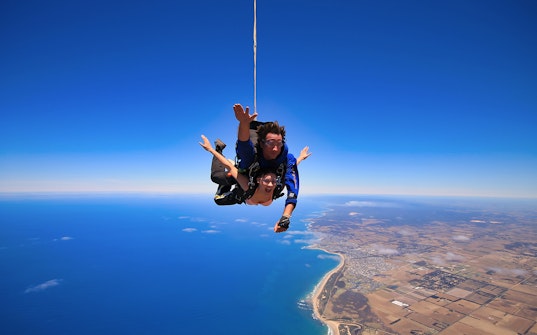 Skydive Sydney Requirements